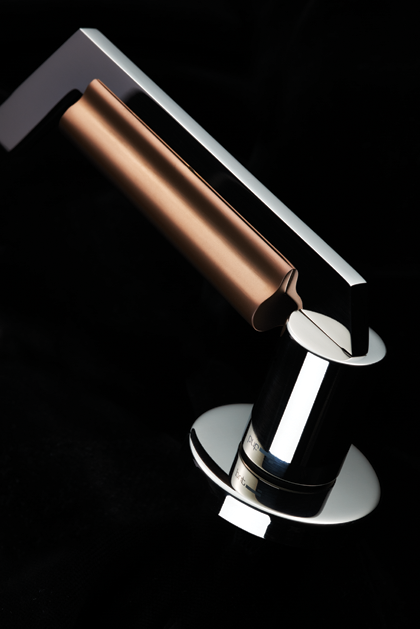 I Tesori presents Griff Werk. This Germany based company originated in Italy in 1946; the Italian roots are still present within their stylish range of products coupled with German engineering resulting in stunning creations that are guaranteed to work.
Predominantly made from stainless steel, the range includes the award winning Rotella R8 Glass Sliding Door system and the unrivalled Piatta handle with a 1.3mm thick rose, likened to the original door handle designed for The Ulm School of Design (HfG), which is regarded as one of the most important international design institutes since the Second World War. Former Bauhaus student Max Bill designed the architectural concept. Together with his student, Ernst Moeckel, he designed a handle for the university building in the 1950ís.
Griff Werk contacted his son Dr. Jakob Bill in 2012 when the university had been renovated and refurbished. This was followed by precise research and intensive development work from the support of the designer Jakob Zumbuhl and Kevin Fries. The specification of the shape of the original was to be precisely retained and, at the same time, the aim was to ensure that the handle also technically met all 21st century requirements.
The brilliantly crafted products of Griff Werk offer flexibility and durability within a home or commercial environment, adding style and sophistication to any property. This ingenious range of products offers a complimentary range for glass and wooden doors, by reputable designers like Jette Joop and Sieger Design.
0207 4818070 | enquiries@itesori.co.uk | www.itesori.co.uk
I Tesori | 69 Turnmill Street | London | EC1M 5RR