Amos Goldreich Architecture has completed Xtend Barre, a 3000 sq ft fitness studio in London, the first European flagship of the American company Xtend Barre. The client wished to transform what was initially a dingy, halogen lit basement into a welcoming and calming space that would lend itself to practical and comfortable use. With this in mind, the reception and changing room areas in particular were to have a welcoming and domestic feel.
The original generic office interior was stripped down and reconfigured into an inviting, airy, contemporary studio. The lower ground-floor location offers windows on only three sides with mostly obscured glass. The walls and built-in furniture were painted white in order to reflect light as much as possible, thus enhancing the expansive feel. Splashes of colour were introduced through the loose furniture, fitness equipment, a food retail section at the reception and a clothing retail zone.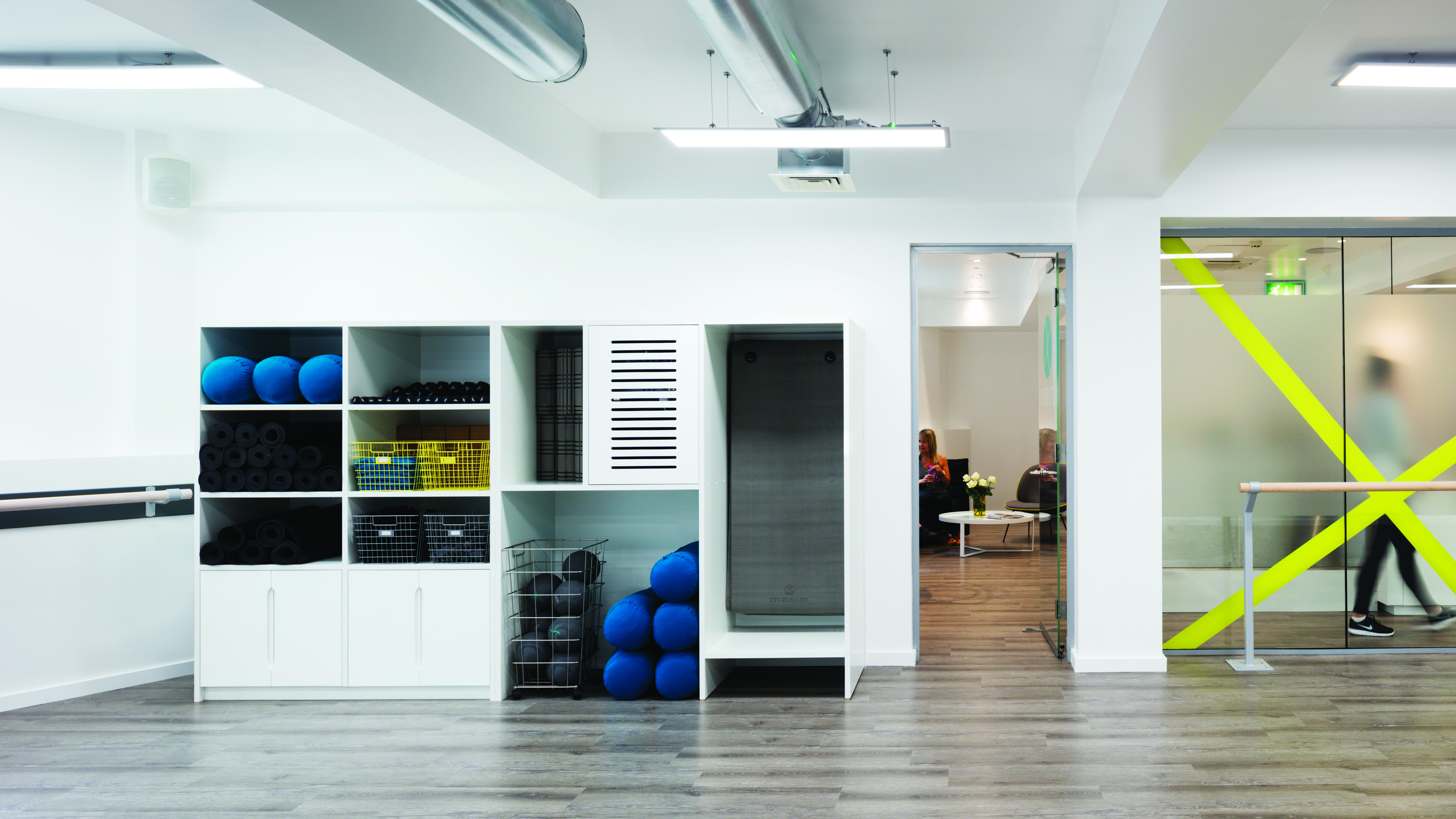 On approaching the studio's entrance through the lobby of the building, four slot windows provide a glimpse of the combined reception and retail area and glazed doors open up to Xtend Barre. The open plan area combines three zones: the central reception desk with a food and beverages outlet, a display zone for fitness fashion clothing on a minimal wall hanging system and a seating area.
Both studio spaces are equipped with all the necessary provisions specified by the clients, including the hallmark barres. Bespoke storage solutions were designed to meet the clients specific requirements.
The changing rooms, WCs and showers are designed for unisex use. WC and shower cubicles are respectively located at both ends of the changing rooms, the spacious shower cubicles doubling up as changing rooms. A central freestanding unit houses the lockers on one side and a vanity unit with mirrors on the other side. The space is tiled in white marble-effect porcelain and mirrors are installed both for functional reasons, as well as to visually expand the changing area.
www.agarchitecture.net | Photography by Rory Gardiner