One of Europe's leading interior design and architecture studios PENSON has delivered Google's new super HQ at Central Saint Giles, Covent Garden, London. The 160,000sq.ft HQ covers an amazing variation of floors including the Main Reception, a Lala Library, Gymnasium, Cafés & Restaurants, a Town Hall and many other trinkets all with long reaching panoramic views of London's skyscape.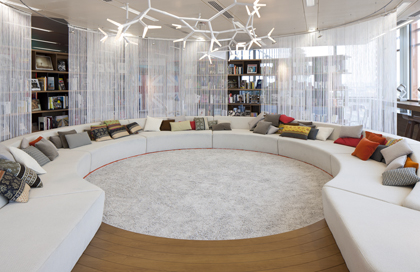 CSG brings Google's sales and other departments nearer to their clients. This interior of CSG is a hybrid version of a London Townhouse, with elements similar to woolly living rooms and granny flat floors with roof top gardens at its pinnacle.
Through very shrewd change management and PENSON's strategic workplace ethos, highly commercial headcount statistics have been achieved. There are 1250 desks & 1250 meeting chairs or collaboration seats within a floor area. PENSON has developed a master-piece of cohesion between visual fun, unique un-themed concepts and commercialism.
Intelligent use of materials and the excellent use of space contributes heavily towards the overall impact and hasn't involved a huge budget. This approach, combined with special touches of prioritised spending such as the bespoke submarine type "noise-tight" doors with "Do Not Turn to Open", bring a big splash of light-hearted quirkiness to the concept.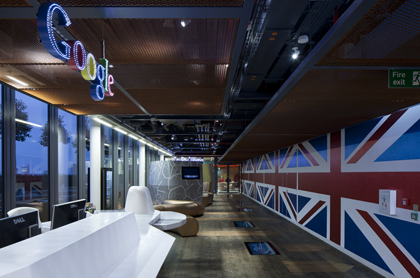 The space is also "eco-massive". The design team has used a very high content of reclaimed or recycled materials to great effect and complies with Google's own Red List, which is highly tuned towards removing all of the nasty ingredients in materials through the use of many water based products. Timber floor boards, with Eco plywood perimeters and tooth converging floor finishes together will age with time, demonstrating that PENSON has specified the space to improve with age and use to develop its own patina.
Further Google features include an allotment space where the demand for a spot has already created a waiting list. Other unique and exciting features to this design include:
The Secret Gardens
These are little private booths in a sun trapped balcony space, which create a special looking, yet densely seated area for those commercials. The booths seat one to four Googlers with a real box hedge wall to create privacy and to act as a wind/sun shield. Googlers will be competing to work in this space on their laptops on Google's wireless.
The Google Green
An interior space which looks out across the Secret Gardens and joins the café, Town hall and small desking area. This space is flexible, as it can be used for "All Hands" meetings, one-to-one slouching in cool Moroso couches, or can be used to entertain large groups of Town Hall guests whilst on their lunch or coffee breaks.
The Town Hall
The Town hall has a capacity to showcase two hundred guests in a fully velvet curtained hall, with open exposed ceilings, a massive Video Wall, amazing acoustics and hi-fi capabilities. This space has been placed in the heart of the floor connecting to the Main Reception with a gallery of artwork and trinkets. Glittery walls splashing huge Union Jacks also help to celebrate the UK whilst adding an economical finish that looks amazing whilst being water based.
The Gym
The Gymnasium has some of the best views across to the south, and provides very quirky shower, change and massage facilities, with a cool Bikedry which provides hanging space for bike gear to air and dry for one's return commute. This invention has also proved highly popular. A dance studio not only assists in flexibility but also in Googlers health and fitness at work.