The bold interior architecture by LSM at law firm K&L Gates, within the iconic One New Change, has led to the space being crowned the best in the country. The British Council for Offices' (BCO) named the space opposite St Paul's the 'Best of the Best' and 'Best Fit Out of Workplace' in the UK at its annual National Awards.
The space triumphed over other architectural feats such as Heron Tower, Greater Manchester Police Force Headquarters, Central Park, Virgin Money and Creative Scotland in Edinburgh, and 7 More London Riverside.

LSM, known for its work across the globe has enjoyed a long and successful relationship with K&L Gates, having worked with the firm to conceive the majority of its new international headquarters. LSM has built a strong reputation across a variety of sectors including law, media, property and manufacturing for designs that respond to genuine business needs.

LSM's fit-out at K&L Gates' London office was singled out by judges as they designed and completed the project during the main construction phase of the building. The judges praised the boldness of K&L Gates in having the foresight to sign up early enough to integrate the fit out design team with the base build, ensuring they could create a workspace fit for purpose from the outset.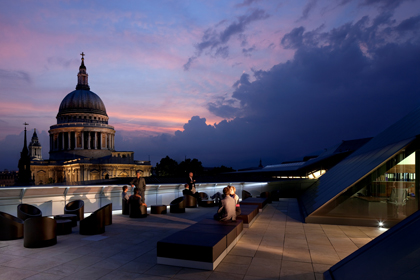 While throwing up a number of challenges, LSM's finished fit-out married a functional and traditional cellular layout with an arresting aesthetic which centres on the stunning views of neighbouring St Paul's. Testament to the success of the development has been the fact that the collaborative, stylish environment created has delivered tangible business benefits.

Debra Lehman-Smith, design partner and co-founder of LSM, said: "As we continue to work more and more in the UK and across Europe, this accolade comes at a really symbolic time. To be standing shoulder to shoulder with such iconic British projects has brought great pride to me and our team. K&L Gates' vision and trust never ceases to inspire and drive us."

Richard Kauntze, Chief Executive of the BCO, said: "Every year we see innovation and vision in design embraced and then moved on even further. This year is no exception, which is all the more remarkable by the fact many were brought to fruition during the economic downturn. K&L Gates and LSM are to be congratulated on their achievement."