Anna Casa Interiors exclusively launched the canvas work of acclaimed artist Alex Turco during London Design Week. Unveiling some incredible pieces, it is the first time Turco's work has been hung in a London showroom.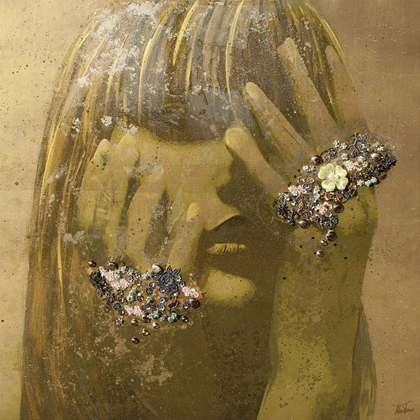 Alex Turco is a contemporary artist who uses a perfect balance of photography, multimedia graphics and hand-processed materials to create one of a kind original pieces. Turco's work is the epitome of elegance with each piece custom made with talent and skill.
The Silver Kiss part of the 'Woman Tribute' collection which was featured in the showroom alongside other new pieces including, The World is Yours, Golden Kiss and Silver Trust. The collection fitted in perfectly with the contemporary luxurious style of Anna Casa Interiors. Whilst they are timeless pieces, each piece of artwork has a very modern twist created by the materials and colour palette that Alex uses.
Commenting on the new partnership with Anna Casa, Alex said at the time: "I am very excited to be able to hang my work in an exquisite showroom and have the chance to work with a talented designer like Anna, I feel our work will complement each others perfectly and will work in harmony to make the Mayfair showroom look even more beautiful"
With an established studio in Chelsea Harbour and a luxurious showroom in Mayfair, Anna Casa works with high end brands including Manooi lighting and leather furniture specialists, Baxter. Anna Dodonova, owner of Anna Casa Interiors was delighted to embark on the partnership with Alex Turco commenting at the time: "We are ecstatic to announce that Alex's brilliant work will is launching in the showroom. We only work with the best to ensure that our quality here at Anna Casa is of the highest standard and we think that this is the perfect marriage"