Anthemion has just completed the panelling of the new bar at Le Bristol Paris, one of the five luxury hotels which form The Oetker Collection.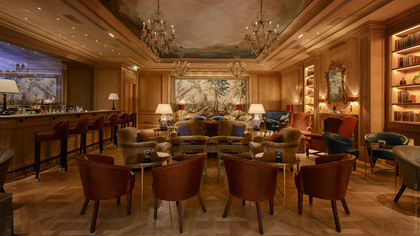 Awarded the commission by internationally renowned French architect Pierre Yves Rochon and the hotelís owner Madame Maja Oekter, the brief was to recreate the timeless elegance and intimate ambience of an English gentlemanís club.
Anthemion is internationally recognised for continuing the tradition of Crowther of Syon Lodge and their expertise in the production of authentically designed, hand crafted English panelled rooms.
Predominantly of Queen Anne design, the grand raised and fielded panels are framed with bolection mouldings specially profiled to suit the roomís proportions, and offset by hand carved decoration personally selected Madame Oetker from a selection of 18th century designs recommended by Anthemion.
The barís bookcases that flank the 19th century Siena Marble fireplace sourcedby Anthemion have glass fronted cupboards to the lower section specially designed to house the bottles of prestigious alcohols carefully chosen by Head Barman Maxime Hoerth.
The finished panelled room required the milling of over 6,000 ft of antique pine and was executed by a team of master craftsmen including cabinet makers,carvers, polishers and stone masons.
The opening of Le Bar du Bristol completes a wide-ranging, 110 million Euro, renovation programme which for the last two years has been overseen by Le Bristolís CEO Didier Le Calvez, who said: ĎI consider the inauguration of Le Bar du Bristol to be the final finishing touch to three years of work. This exceptional renovation programme will breathe new life into Le Bristol, the aim of which is to become the very best hotel in Paris.í In September 2011 the World Travel Awards voted Le Bristol Franceís Leading Hotel and Europeís Leading Hotel.