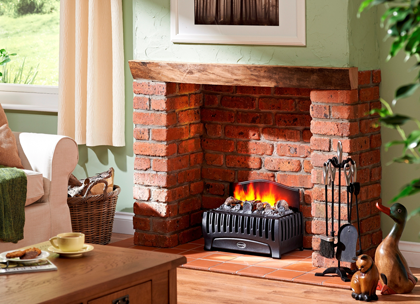 It's another 'first' for leading name in fires Dimplex with the launch of the Westbrook, the first design to feature the award-winning Opti-myst® smoke and flame effect in an electric fire basket, displaying the extraordinary realism of the technology to dramatic effect.

The Opti-myst flame effect is acknowledged to be the world's most convincing and it's beautifully showcased in the Westbrook – it has to seen to be believed. The fire's basket design allows the effect to be fully open to the viewer, with the 'flames' and wisps of 'smoke' rising up attractively through a glowing log effect fuel bed.
Finished in matt black, the Westbrook features a cast iron grate for added authenticity, bringing a feel of classic solidity, while the back panel can be removed to give an alternative look. The design creates an appealing focal point in a room in seconds, with no specialist installation required, as it simply plugs in.
The Opti-myst smoke and flame effect is silent in operation, with remote control allowing the user to easily adjust the fully variable smoke and flame intensity to set the mood.
With dimensions of 350mm height x 450mm width x 270mm depth, the Westbrook has been designed to reflect the dimensions of a classic fire basket, without overpowering the proportions of modern homes. And like all Dimplex fires, the Westbrook is BEAB approved, for an independently tested and monitored guarantee of safety.
For more information telephone 0844 879 3587, email, marketing@dimplex.co.uk or visit www.dimplex.co.uk/fires.