International interior designer Anna Dodonova has recently completed the redesign of a contemporary family apartment in the heart of Knightsbridge, London.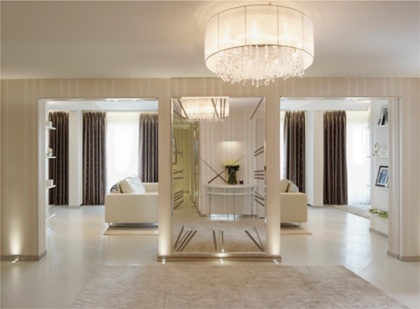 Faced with a brief of changing the interior layout and making the space feel as spacious, Anna changed the apartment layout by completely opening the entrance area and installing a walk in wardrobe and guest bathroom. There is now an open-plan living and dining room space.
With breathtaking views of London, The 300 square metres property is bathed with Anna's love for light and bright shades of white and ivory and her signature style of blending contemporary design with timeless glamour.
With the clever use of lighting and mirrors, Anna created the illusion of higher ceilings and larger rooms. The apartment is ?lled with bright energy and a ?ow of light from room to room. The white and ivory colour palette is complemented by the use of accent colour accessories.
Anna used shiny lacquered ?nishes on some of the surfaces and the best quality fabrics and leathers. From sand touch wallpaper and glass beads to ?ne studded curtains, the different textures featured throughout the apartment gives all the spaces depth and character. Anna points out that although each room has its own personality, "everything was designed in the same vein to ensure a harmonious balance was achieved".
Anna worked closely with the owners, from concept to delivering the ?nishing touches.