The European Hotel Design Conference (EHDC) is the new name for the conference which runs alongside the well-established Sleep Event exhibition.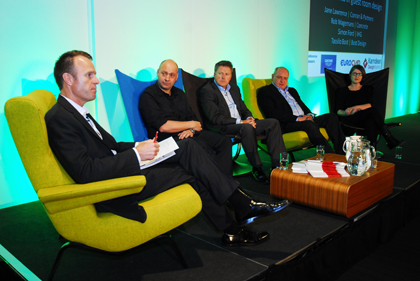 The two-day conference will provide hotel project team leaders with a unique opportunity to gather information, network and discuss the issues connected to the design, operation and development of hotels.
Now in its eighth year, the EHDC has grown to become one of Europe's leading conferences dedicated to hotel built environments. It features leading architects, clients from major chains and independent operators, interior designers, developers, financiers and engineers. Delivered in a mixed format, the conference will include keynote speeches, panel debates and round-table discussions.
EHDC is hosted and moderated by two expert observers of the hotel industry – Guy Dittrich, contributor to several hotel media sources including Sleeper magazine, and Andrew Sangster, editor of Hotel Analyst.
Day one of the conference has an accent on design with two major names from the industry delivering keynote speeches – Richard Seymour, Design Director at Seymour Powell and Tara Bernerd , CEO of Tara Bernerd & Partners.
Seymour is one of the UK's leading product designers and featured in the Channel 4 series Better by Design with his business partner Dick Powell. Bernerd is an experienced design consultant, working with many high-profile consumer and luxury brands such as Dulux and Aspinalls.
The Sleep Hotel is always a major talking point of the event and this year four teams headed up by Una Barac of Scott Brownrigg, Nir Gilad of Nous Design, Paulo Ribeiro of Bisset Adams and Yasmine Mahmoudieh will present their 5 star-rated rooms to a panel of hotelier and architect judges.
Day two has an interactive feel with a series of round-table debates and panel discussions. First introduced last year, the round-tables proved to be a great success and will be introduced by Daniel Englender, Managing Director of Benjamin West. The atmosphere is informal and friendly with no holds barred discussions expected! The second half of EHDC also has a distinctly international flavour, featuring speakers such as Christoph Hoffmann of 25hours Hotels, and Paul Janmaat of Qbic Hotels.
This year the conference taps into a major new trend – the pop up hotel , which will be discussed by design and client experts Jonathan Manser, Suzanne Oxenaar and Claus Sendlinger.
While EHDC gives a platform to designers and architects, it also deals with the practical and business considerations of hotel development, delving deep into often-neglected areas such as back-of-house staff areas, which will be discussed by Michael Gray, General Manager at Hyatt and Ramsay Ritchie, Associate Director at ReardonSmith. Successful hotel development often involves smart asset management so a key round-table debate explores building conversions, featuring Robert Shepherd of Intercontinental, Patrick Fitzgibbon of Hilton Worldwide and Andrea Brandenberger of Rezidor. A wide range of senior project professionals are expected to attend, with contractors, architects, asset managers and clients strongly represented in the audience.
The conference will run alongside The Sleep Event Europe exhibition, taking place on 21 – 22 November 2012 at the Business Design Centre, London.