The majestic St. Regis Rome has revealed the latest addition to its collection of signature suites at the landmark hotel with the debut of the Couture Suite.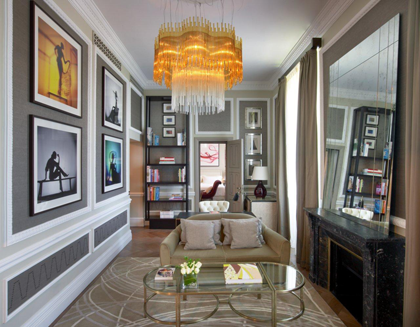 Designed by The Gallery at HBA London, the Couture Suite offers an escape into the glamorous world of Italian flair and high-end fashion, combined with timeless St. Regis elegance.
Drawing inspiration from the cityís renowned couture houses, as well as St. Regisí blend of classic sophistication with a modern sensibility, the suite features signature furnishings and accessories which celebrate the best of Italian style. The suiteís design carefully incorporates the spirit of Italian fashion, with an emphasis on flowing shapes and meticulous attention to detail.
The expansive 150 square metre Couture Suite is situated on the second floor of The St. Regis Rome. The master bedroom features an elegant central living room where details unfold layer by layer. A high ceiling and neutral, linen-textured walls form the backdrop for its exquisitely luxurious materials and intricate embellishments, such as the nail-head trim on the timber panelling and millwork, the softest Italian leathers and finely stitched embroidery. A grand antiqued mirror above the original marble fireplace reflects the light from the cascading glass rods of the shimmering chandelier. Three large windows frame views of the city, including Piazza della Repubblica with its historical Fountain of Najadi. And in a clever twist, a television rests on an easel, thus adding to the spaceís comfortable yet refined artistic elegance rather than becoming a dominant focal point.
The Couture Suite embodies rich Italian history, art and culture. Catering to St. Regisí discerning and well-travelled guests, the suite features a private library showcasing legendary Italian artists and top fashion designers, as well as travel literature and photography books. Furthermore historical photographs of some of the hotelís celebrity guests are placed in the suite, adding a touch of glamour.