The very best developments, architecture and interior design from across the entire United Kingdom were celebrated at the London Marriott Hotel Grosvenor Square on Friday 12th October.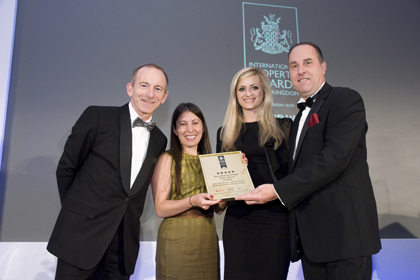 The leading property professionals behind these outstanding projects were invited to attend the UK Property Awards in association with Gaggenau, Yamaha and the Royal Institute of Chartered Surveyors (RICS).
Roselind Wilson Design Limited was awarded "Best Interior Design Show Home, London" as well as "Best Interior Design Show Home, United Kingdom" for their work on the Lateral Penthouse at Cornwall House. Roselind commented, "It's testament to how hard we work and how devoted we are to the projects we do that steers us towards such spectacular results".
These awards, combined with the other regional awards' programmes for Arabia, Asia Pacific, Africa, Europe and the Americas, form the globally renowned International Property Awards. Now in their 18th year, they are the world's most prestigious property competition and cover residential as well as commercial categories.
Judging was carried out through a meticulous process involving a panel of over 60 experts covering every aspect of the property business. The next stage of the awards' programme is for top scoring five-star winners of each category to be re-judged against those from the other regions to determine the ultimate World's Best winners. These will be announced at the grand final to be held at the Grosvenor House Hotel, Park Lane, London on Friday, December 7th.