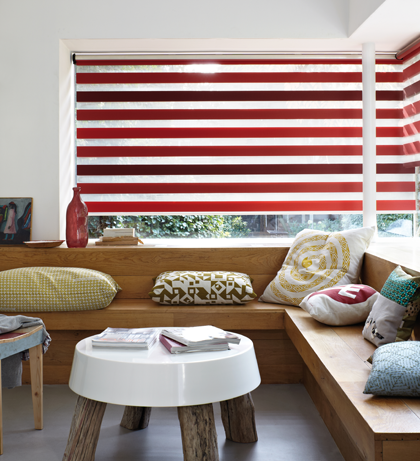 The new Luxaflex® Twist™ Roller Blind Collection is certainly something to shout about. The stylish and contemporary blinds allow you to control the amount of light and privacy you desire. Two layers of alternate transparent and non transparent panels create an amazingly simple yet effective method of controlling light and privacy depending on your mood.
The extensive collection of exclusive fabrics offers you a multitude of options whatever your interior style. Choose from bold uni colours, striped patterns or decorative fabrics, unusual choices include fabrics with metallic thread woven into them emphasising the beautiful design or the striking Symphony range with strips in three different colours. The collection also includes fire retardant fabrics, whatever you decide you can be assured of the Luxaflex® quality.
Luxaflex® Twist™ Roller Blinds are custom made to your specifications, up to a maximum width of 2.75 metres. Larger windows can be accommodated by installing roller blinds next to each other. This window covering looks particularly spacious because, depending on the style chosen, the strips can be adjusted to the same height giving a unified style. The level of transparency and incoming light can easily be adjusted or raised completely using a metal chain control. The blinds are operated with a chain as standard whilst a motorised or crank rod model is available.
The Twist™ Roller blind Collection system is an innovative, easy to use and tastefully styled window solution with the Luxaflex® guarantee of lasting quality and optimal home comfort ultimately giving you years of pleasure.
For more information visit www.luxaflex.com