KI have come up with a clever and ingenious concept for its Postura+ range of stackable chairs. Clients receive the vertically stacked mini chairs in the standard colours in a box through the post.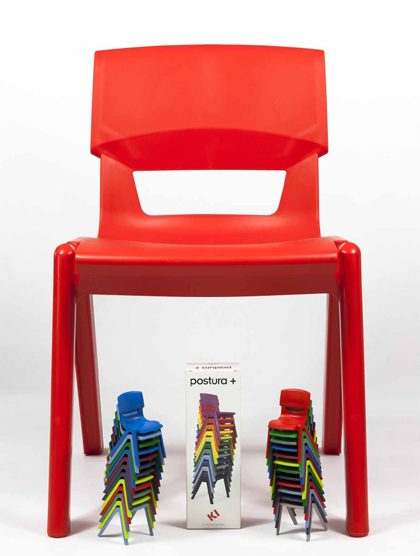 Product information and colour references are marked up on the exterior of the box. Instead of mundane colour square shaped swatches, KI clients receive mini polypropylene Postura+ chairs in a variety of colours from which they can select exact poly colours.
KI's Postura+ range of seven sizes of stackable chairs are manufactured in the UK. The chair is ergonomically designed to promote good posture and provide exceptional comfort. It is now the most new seating solution in UK schools.
Moulded from high impact resistant polypropylene, Postura+ is strong, durable and light enabling the safe vertical stacking of 12 chairs. The lower back lumbar design ensures perfect ergonomics whilst the graduating seat curve supports 'perch' and 'full' sitting positions and the unique waterfall edge of the seat provides comfort. The angled back legs prevent the chair from rocking or slipping and will not twist or distort.
Postura+ is fully BS EN1729 certified in all seven sizes, with Crib 5 high fire retardancy and has a 10 year warranty. The chair is anti static and stain resistant helping it to stay cleaner for longer.
KI is the leading global provider of educational furniture designed and manufactured locally and globally to offer good value, flexibility and design excellence.