After the resounding success of the Innovation Awards at kbb LDN 2011, the prestigious competition is now back for its second year and is set to unveil yet again the most exciting advancements in the industry.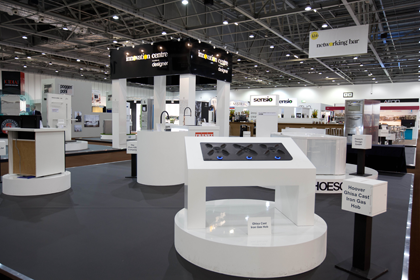 The kbb LDN Innovation Awards celebrate the most ground-breaking advancements across the kitchen and bathroom industries. This exciting competition allows industry manufacturers to not only put their products in front of an expert panel of judges, but also in front of thousands at the exhibition if selected.
To enter the awards, participants must submit a completed online form by 15th March at www.kbb.co.uk/innovation. Any product put forward for the award must demonstrate innovation at the highest level, and have been or will be launched between May 2012 and May 2013.
The expert judging panel will be chaired by Martin Allen-Smith, editor of Designer Kitchens & Bathrooms magazine. Martin commented: "The kbb LDN Innovation Awards is an ideal opportunity for kitchen and bathroom brands to be rewarded and recognised industry-wide for their innovation and creativity. These are highly sought-after awards and the quality of entries in the past has been exceptional. I very much look forward to seeing what some of the leading manufacturers from across the sectors have in store for the judges this year".
The other two judges joining Martin are Robert Timmons of Robert Timmons Furniture who will be bringing his specialist bespoke design skills to the judging panel and interior designer Daniel Hopwood, an expert in creative and practical design.
The judges will produce a shortlist of up to 20 entries that will be on display at kbb LDN. These products will then be assessed further by both judges and visitors alike, resulting in three winners for The Judges Choice Award, The Visitors Choice Award and The Online Choice Award. The winners will be announced and their awards presented live at the show 19-21 May 2013 ExCeL, London in a dedicated showcase.
As part of the May Design Series, kbb LDN provides the perfect backdrop for the Innovation Awards, attracting thousands of industry specialists from around the world.
www.maydesignseries.com
www.kbb.co.uk