Citrix, the company transforming how people, businesses and IT work and collaborate in the cloud era, has designed its new offices at La Defense in Paris, as a live showcase for the workplace of the future.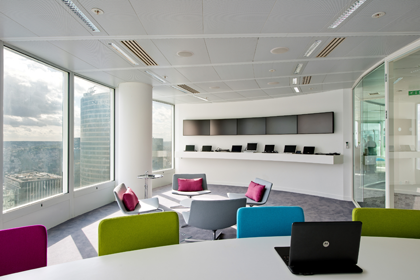 Area Sq, the leading office design, refurbishment and fit-out company has delivered this vision, creating a working platform to facilitate an ever-changing environment by mirroring the principles of a village town centre.
According to Citrix's own research*, organisations are set to reduce office space by almost a fifth by 2020 and the workplace of the future will provide just six desks for every ten office workers in the UK. Organisations will have to redesign their office space to be more appealing, with the workplace of the future needing to foster creativity, be inspiring and encourage collaboration by enabling people to work from wherever, whenever and on whatever device so that work becomes something people do, not a place people go. It was essential for Citrix that the new 16,500 sq ft headquarters in Paris embodied their vision for the future of the workplace embracing Citrix's 'workAnywhere' philosophy.
Seeing themselves as a global village of smart, talented people and with team members from the UK, France and Germany all working from the Paris office, Area Sq replicated the layout and facilities of a village town centre with its town hall, bus stops (snug areas), business district (product demonstration area), library (training and meeting rooms), playground (break out areas) and village green to create a sense of community and encourage interaction.
With less than 50 per cent of their own workforce, based at the Paris office full-time, Area Sq guided Citrix to create zonal spaces that encompassed a cafe, meeting rooms and a general space where people could communicate, meet and brainstorm, rather than having too many workstations. Other facilities include a training area, quiet rooms and a staff breakout complete with table football and PlayStations for staff to use throughout the day.
Sketch Studios, the sister company to Area Sq, worked closely with Citrix throughout the design process in order to select, procure, deliver and install furniture that reflected the clients 'workAnywhere' ethos. Sketch worked with a range of manufacturers including Herman Miller for desk and task seating, as well as designing and creating bespoke joinery pieces and mobile seating in the village, which can be adapted for a variety of uses. Sketch Studios was also responsible for managing the relocation of 120 staff and their filing, storage and IT equipment between locations in Paris. During the move Sketch was also able to recycle 95% of Citrix's existing furniture with the use of new tops or covers to give them a new lease of life.
James Geekie, Head of Design at Area Sq Regions commented "New ways of working are often difficult for some of our clients to embrace, but slowly companies are waking up to the reality that staff don't have to be sitting at their desks to be earning revenue for the business. With Citrix however, their brand philosophy is just this, so it meant we could design an environment which embraced this vision for the future of the workplace entirely. Now when a visitor first arrives in the office, rather than being greeted by rows of desks, they will see a range of zonal areas in which they can meet, socialise, brainstorm or relax in. They are then able to choose to work in the space that will most efficiently meet their needs."
Area Sq was appointed for the Paris project following the successful refurbishment of Citrix's UK premises in Chalfont Park, Buckinghamshire completed in August 2012.
* http://www.citrix.co.uk/news/announcements/sep-2012/future-workplace-formula—1-person-x-6-devices—two-thirds-of-.html