Sally Williams, Senior Designer for designLSM has been asked to design the interior of three restaurants for the latest UK Center Parcs Village, Woburn Forest.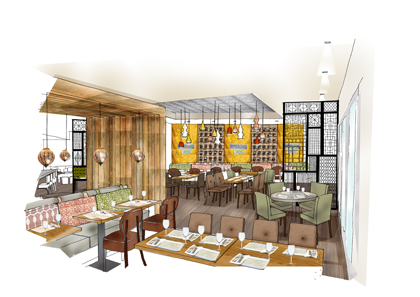 The overall scheme will comprises of 625 lodges, a luxury hotel, and 21 food, beverage and retail outlets.
The first renowned concept, The Pancake House, will be located next to the lake with a small beach and boathouse. The interior includes its characteristic primary colour scheme, and banquette seating with the addition of chalk boards around the open kitchen to add warmth and interest.
The second scheme is Dining In, a relatively new takeaway concept which will feature a slick new timber bar and counter seating.
The final concept is Rajinda Pradesh, a contemporary Indian restaurant. Natural earthy tones, large display jars filled with spices, a raw silk bar front and embossed tin ceiling tiles provide visual stimulation for diners. Although child friendly for early sittings, the lighting will later soften with the use of tea lights to provide a grown up, intimate dining area.
The project will open in spring 2014.
Image: Rajinda Pradesh, concept for a contemporary Indian restaurant