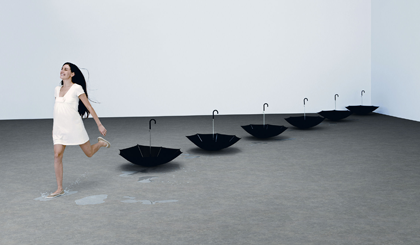 Polyflor has unveiled Expona Control, a ground breaking new flooring concept. Expona control combines the design benefits of an LVT with the performance of a HSE compliant safety floor offering sustainable wet slip resistance. Expona Control is the first product of its type and the culmination of Polyflor's expertise and creativity in the manufacturing of LVT and safety flooring. The design focussed 14 colour collection features authentic wood and stone designs and achieves the required slip resistance through the inclusion of aggregate throughout the wear layer.
Expona Control is developed for use in public areas where there is a risk of spillage or temporary surface water that could make the floor unsafe. Designed for use in heavy commercial locations, typical applications of Expona Control include bar and restaurant areas, supermarkets, department stores, schools and universities. Generally any area with direct access to the outside is susceptible to becoming wet on a rainy day. With high footfall rainwater is quickly trafficked inside on footwear, umbrellas, clothing and push chairs. Expona Control is the perfect solution for these difficult areas offering both high design and sustainable slip resistance.
Expona Control is fully HSE compliant offering the same slip resistance specification as Polyflor's market leading Polysafe ranges. Achieving 36+ in the pendulum wet test and 20 microns of surface roughness the slip resistance is sustainable for the life of the product. The enhanced wear layer creates a rougher, harder friction surface to 'bite' into the sole of footwear, to create the necessary durability and underfoot safety. In fact once Expona Control is installed and maintained correctly the slip resistance will tend to improve with time. A clean floor is a safer floor and the incorporation of Polyflor's PUR technology provides an easier regime for maintenance staff and a reduced need for energy, power, water and chemical consumption.
Unlike traditional safety floors Expona Control is complimented with a range of inlay strips allowing for countless design possibilities. Tiles and planks from the wood and stone collections can also be installed side by side to delineate rooms and create zonal areas. The possible combinations and floor design options promote Expona Control as a more creative concept allowing truly bespoke floors to be created, whist retaining the safety aspect at all times.
For more information telephone 0161 767 1111, email info@polyflor.com or visit www.polyflor.com