Christopher Jenner is to design a new showroom for Drummonds in Notting Hill, London showcasing their incredible bathroom collections.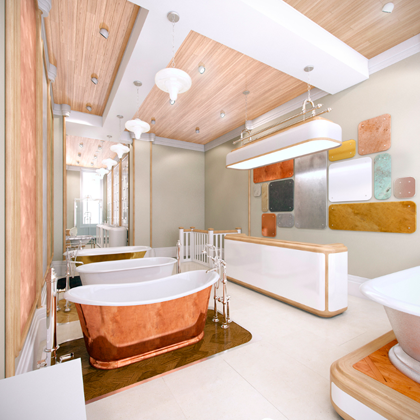 Heralding the start of a creative collaboration with the brand, Christopher has been tasked to create an environment for their crafted products.
The design is an elemental narrative of form and materials, devised to demonstrate the artisanal, handmade heritage, which lies at the heart of the craft process.
The composition illustrated via a layering of shape and texture, presents the collections to geometric effect. Organic forms, mirror the movement of falling water through sinuous frames, interplayed with metallic polished plasters, bevelled mirror fretwork and natural oiled Oak. With extensive use of interchangeable metal surfaces allowing for curated material storytelling.
This project is an emotive departure in showroom design, reflecting Christopher's passion for craft and Drummonds' unparalleled commitment to quality.
The Notting Hill Showroom will soon be followed by a large showroom design on the King's Road, and the launch of the first product collaboration to be announced shortly.
The showroom is due to open in November 2013.