Scott Brownrigg Interior Design has completed one of London's most prestigious fit out projects for the new offices of international insurance giant Arthur J. Gallagher (AJG).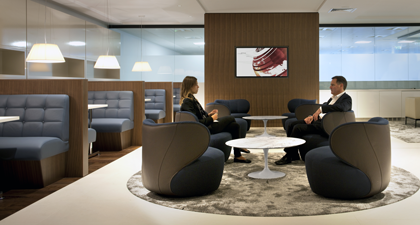 Located within the Foster-designed Walbrook Building on Cannon Street, London, AJG is the first major tenant to move in, leasing approximately 60,000 sq ft on the ground and 7th floor to consolidate 640 staff from three separate locations. Scott Brownrigg won the project in a design competition in July 2012.
The challenge for the design team was how to bring life and functional use to the existing, very deep plan ground floor space, which had minimal natural light, and how to create an inspirational design on the unusually shaped 7th floor with its curved and sloping façade.
The winning design was inspired by the two magnificent atria spaces, described by Ken Giannini, Director of Interiors, as "Oculus shapes". Ken commented: "The atrium does not extend to the ground floor but our winning design created a special 'oculus' room with sloping blue tinted glazed walls which mirror the location, shape and size of one of the atriums and gives the ground floor the appearance that the atrium has connected to the ground. This visual illusion introduces bright light via a barisol ceiling detail and is a real wow factor as well as being a practical meeting space divided by a vertical skyfolding wall."
The project's lead Senior Designer Renata Sa designed the space on the ground floor to also incorporate a broker's lounge and coffee bar for informal business meetings between brokers and underwriters, as well as a selection of enclosed meeting rooms.
The 7th floor also presented design challenges and Renata's innovative space plan solution was to radiate the open plan desks from the centre of the main oculus atrium. She explains: "This unique space plan solution gave us great light and views as well as the opportunity to retain other space for a variety of special work settings, such as a staff lounge, quiet booths, and break out spaces." The 7th floor also includes a high quality executive suite of offices and private dining rooms, which offer spectacular views across London.