Manchester-based commercial refurbishment specialist, Rische Group, has signed a deal to become a UK supplier of one of Italy's fastest-growing furniture brands, Babini Office.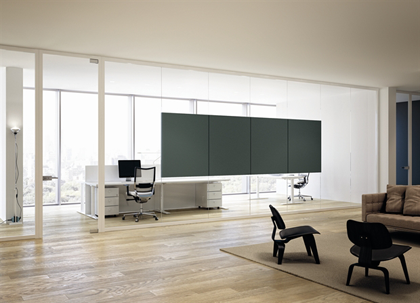 The deal, which was two years in the making, came as a result of Babini's unique product offering, the likes of which have never before been available in the UK.

Babini Office is an Italian family-owned company founded 50 years ago that has, throughout that time, acquired valuable experience in manufacturing high quality, competitively priced workplace solutions.

Designed with office fit-outs in mind, Babini's innovative office furniture is re-locatable, meaning that products including dividing walls and partitions can easily be moved at minimum cost to completely transform and reconfigure any given workspace.

The agreement reinforces Rische's position as a leading partner for architects, interior designers and end-users seeking the best possible office design solutions on the market.

Martyn Richards, Managing Director at Rische Group, commented, "Babini provides unique, sustainable office design solutions that are cost-effective, eco-friendly and of the highest quality. We noticed there was a gap in the market for such a product and so we're very pleased to have entered into what we anticipate will be both a long and prosperous partnership.

He added, "We'll be firmly focusing our attention on highlighting the superb quality of Babini furniture and its installation in our forthcoming office re-fits and refurbishments. Alongside our existing line of product ranges and distribution partnership, this deal allows us to enhance our end-to-end service and strengthens our ability to, as ever, carry out projects in line with our customers' high expectations".

During the first quarter of 2014, businesses that order Babini furniture through Rische will be offered the chance to visit the furniture manufacturer's 46,000 sq m factory, which is situated 10km away from central Italy's Ancona city.

There, they will be able to experience first-hand the care and attention to detail that Babini implements in all elements of production.

Michele Falcone, chief operative officer of Babini, said: "The UK market represents one of the top priorities for our company and we believe that the agreement made with Rische Group will drive outstanding results. After having completed a re-organisation process with huge success in 2013, Babini Office is ready to compete at the highest level with a comprehensive product portfolio created to answer the most complex customer needs. Our passion for design and quality and Rische's professional capability and experience will make for a very valuable market model."

The Babini range joins the ranks of other popular products that Rische offers, which include innovative materials and unique light fittings from well-known brands including Barrisol, Carpyen and Duralmond.