After the successful collaboration with Kelly Hoppen MBE for a model hotel suite at this year's Sleep event, Pixel Projects is set to continue with its growth in the Hospitality sector.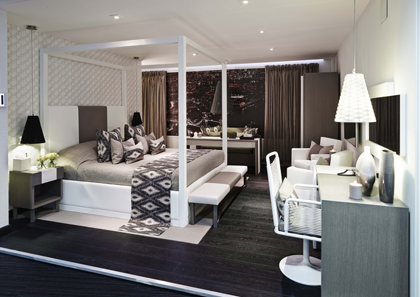 Pixel Projects' global presence is of much use to hoteliers who have hotels across the globe. The team of experts can deliver guest facing technology with a highly consultative approach to ensure the solution is right for the relevant property.
Pixel Projects will be making an appearance in the VIP lounge at this year's HTE event. Hospitality Technology Europe attracts Europe's leading hospitality IT professionals hoping to source new technology, network and update their knowledge. The event takes place today (4th February) at Earls Court 2, London and closes on 5th February.
Pixel Projects in-house Hospitality expert, Sue Harbottle-Sear, has been invited to deliver a VIP exclusive talk at the event on the 5th February in the VIP lounge from 3.45pm, '10 Trends in Hospitality Technology you should know about'. Sue's passion for technology led to her becoming an expert in her field engaging with many world renowned hotel brands. Joining Pixel Projects in 2013 she became Business Development Manager EMEA Hospitality drawing on her experience of advising on a number of iconic hospitality projects. Sue offers an intuitive understanding of the challenges faced by the sector needing to integrate the right and relevant technology.
Sue designed and implemented the Guest Room technology scheme for the winning Scott Brownrigg/Willmott Dixon 5* model hotel room at Sleep 2012 demonstrating her belief in a holistic approach to combining design with technology to deliver an outstanding guest experience. She then worked closely with the Kelly Hoppen team to again deliver a spectacular scheme at Sleep 2013 with Pixel Projects.
At the HTE event Sue will be discussing trends in guest facing hotel technology. Sue commented; "as guest technology continues to develop at a relentless pace, it can be difficult for hoteliers to keep pace with recent changes, let alone look to the future. However, the savings and improvements that technology can deliver to a property mean that operators, managers and directors really need to keep one eye on these emerging hospitality technology trends".
Sue is going to give participants an overview of the most prevalent trends from an unbiased and holistic perspective, raising awareness of specific challenges and discussing the kind of approach which will assist in delivering a successful project to a property. Trends as diverse as BYOD (Bring your own device), The Lobby as a Tech Hub and Service Automation amongst others will be discussed to promote best practice.
Pixel Projects shares the belief with HTE that technology in hotels is no longer a luxury, it is a necessity. Hotel technology enhances the guest experience, grows multichannel revenues, increases margins and improves business efficiency, Pixel Projects is able to provide guidance on what is for some hoteliers, unknown territory.