Giorgio Borruso Design has won International Interior Design Associationís prestigious 2013 Global Excellence Award for 'Best of Category: Retail' for the project of Carlo Pazolini Venice.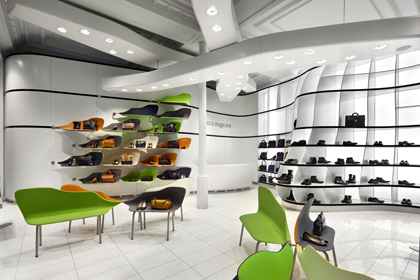 The IIDA Global Excellence Awards annually recognises and rewards outstanding originality and excellence in the creation of international Interior Design/Architecture projects. Truly global in scope, the winners of the competition were chosen from 92 international design firms from 32 countries around the globe.
Carlo Pazolini Venice is a 1,100 square-foot space, located near Piazza San Marco. This landmark-protected site is unique in that at least once a year, the adjacent canal will flood the interior for several days. The process of flooding and receding canal waters informs the design in both a subtractive and additive way, by fluidly shaping the periphery but also by leaving behind programmatic elements to populate and activate the space. A nested display system is reminiscent of the colourful boats nested together along the quay. Large pendant lights hover like strange luminescent creatures displaced from the neighbouring canal. Carlo Pazolini Venice is one of several award-winning projects Giorgio Borruso Design has produced for the shoes and accessories company.
IIDA Global Excellence Awards honoured the winners at a gala celebration on Saturday, January 25, 2014 during the MAISON&OBJET show in Paris. BMW Group DesignworksUSA is a proud partner and collaborator in this competition.
Photos available upon request.
Giorgio Borruso is an internationally renowned Italian architect whose Los Angeles-based multi-disciplinary design studio has produced innovative and award-winning works ranging from architecture to interiors and industrial design.