Corney and Barrow's Old Broad Street has been transformed; out with the old and in with a new design. As part of C&B's new concept, which introduces a new twist to their bars and restaurant, Nelson Design has injected colour, pattern and texture to this once neutral schemed bar.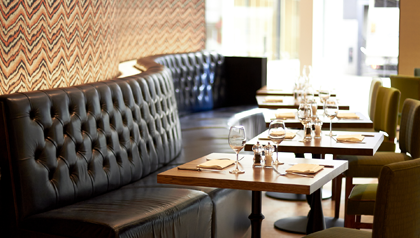 Flame stitch multi-coloured grass paper clads the walls. The colours mint, navy blue, delicate orange and gold are found again in quilted velvets and aged leather used for the upholstery of sofas and fabric slipper chairs.
Full height Italian-designed wine fridges, which are internally illuminated have been installed behind the bar to create a focal point. Laser cut panels of organic design are used to screen some of the glass frontage. One of the entrances has been closed off to create a private snug area.
Ensuring a subtle recognition of the new C&B concept, some of the design traits from C&B's Mason's Avenue bar (also by Nelson Design) have been duplicated. For instance, rough hewn timber set on the diagonal clads the bar front again and the 'stick and ball' metal leg and timber coffee tables are to be recognised from Mason's.