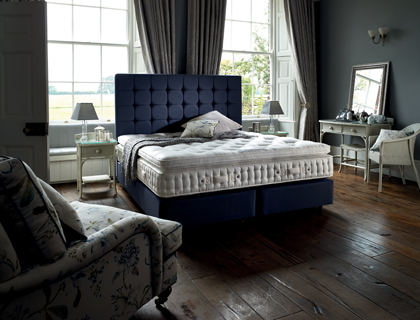 Harrison Spinks, one of Great Britain's most established and innovative bed makers, has launched Harrison Spinks Contracts Division, which will use its world-leading spring technology and natural fillings in its new contract range.
The Harrison Spinks Contract Collection is designed and manufactured in the heart of Yorkshire, to provide an exceptional sleep experience for hotel guests. Harrison Spinks' knowledge and expertise in the field of sleep, along with their innovation, ensures that the mattresses and divans offer the ultimate sleep experience.
Stephen Truswell, Contract Sales Director, who brings a wealth of experience in the Contract Bed market, including senior roles at Silentnight Group, will head-up the new Contracts Division. Stephen said: "We wanted to push the boundaries and go where no other contract bed manufacturer has gone before. Using our unique spring technology, we have created a beautiful bed range with the highest spring counts available to the hospitality market, providing guests with a great night's sleep night after night."
Harrison Spinks prides itself on innovation and over the last ten years has re-invented the way pocket spring mattresses are manufactured by developing unique spring technology.
The investment in a Yorkshire farm to rear sheep and grow hemp and flax for themattress fillings, only 20 miles away from the factory in Leeds, coupled with unique spring innovations, has led to Harrison Spinks being recognised by HM Queen Elizabeth II with two Queen's Award's for Enterprise in Innovation and Sustainable Development. The company believes a good night's sleep benefits from environmentally sound materials, so they blend all mattress fillings ourselves from the finest natural fibres.
A range of beds from both the Harrison and Somnus brands will be offered under the Harrison Spinks Contracts Division. The collection was previewed at the Independent Hotel Show and the Sleep Event last year.
0113 2055200 | www.harrisonspinkscontract.co.uk