Bert & May, experts in sourcing and creating unique materials are launching their new property arm, BERT & MAY SPACES at their very first Clerkenwell Design week with their Barge No.1.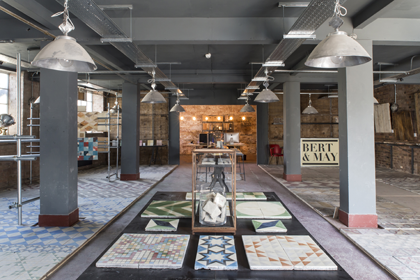 Under the creative direction of architect designer Lou Davies they will be installing a highly bespoke 50ft barge in St John's Square, just behind the Zetter Hotel and will be hosting talks and events.
The Barge is phase one of design led living spaces and will offer alternative / affordable housing in both London and the rest of the UK. Barge No1 combines the unique materials and bespoke design service that Bert & May are famous for, as well as delivering a modern spatial solution for alternative design-led living. The seating to the stove have all be sourced for their design kudos from Vanja Bazdulj to Stovax, luxury lighting from Atelier Areti to vintage Beton Brut.
There are a number of water "agents" arranging moorings from Angel to Richmond. But the other element is for weekend homes in the country. The bespoke interior is curated by design project manager Laura Fulmine to suit the location and lifestyle of the owner, making them a viable property purchase. There's definitely a rise in the water dwelling communities.

Phase two is Boxes – modular homes – Lou Davies will be able to talk you through using models which are currently being produced in time for CDW. These are highly versatile – from water residences, extension rooms to garden spaces. No images yet but we'll have drawings, CAD images and models then.
Design is at the heart of the Bert & May Group brand philosophy under the charge of design entrepreneur Lee Thornley (BERT). Each Space is created and curated to the highest standard utilising Bert & May's extensive address book of industry insiders. Leading architects to innovative creative project managers (Lou Davies/Laura Fulmine etc).

Drawing on their previous experience in property development, including; high profile overseas private residences, a luxury boutique hotel and, projects with Four Seasons Miami, Soho House and The Cowshed Spa, Bert & May will also be developing their Spaces offering with the forthcoming launch of kitchens and modular homes.