Paul Nulty Lighting Design (PNLD) has completed the interior lighting for Adventure Bar's Clapham Junction venture, which recently underwent a total makeover.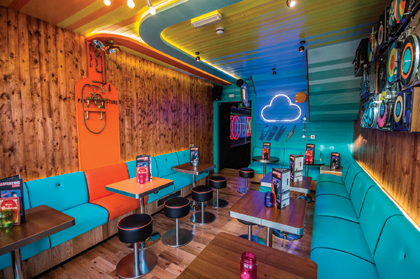 Working closely with interior designers, Mystery, on a time travellers workshop brief that draws customers in with a theme that is both retro and futuristic, PNLD has produced a bold, cost effective scheme using simple theatrical techniques and statement luminaires to create a dramatic and inviting space that focuses on the whole experience rather than a single element.
Divided into two distinct areas, the bar evolves from an imaginative 'steampunk' theme through to a 1970s retro mashup as customers move around the bar area. Design features include mad scientist scrawling, taxidermy, and deep sea diver's helmets on the walls, as well as a bare brick-style ceiling with bronze finishing and Victorian-style dark, panelled wooden floors. There is also a bespoke 1980s style infinity mirror with light bouncing round, gramophone speakers that turn into light fittings, and 1970s hairdryers that PNLD has turned into lampshades.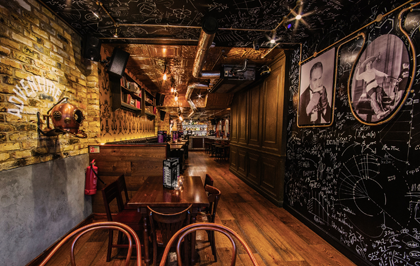 Counteracting the darkness from the interior design, PNLD has designed a permeable lighting solution by using bright lights in back bar that can be seen from the streetscape, helping to entice customer through the space.
PNLD's goal was to emphasise every finish, so that the lighting appeared to seamlessly blend in with the aspirations of interior design. Spotlights were therefore used to create a sense of drama, and a blend of accent and feature lighting throughout the bar helps create atmosphere at all times of the day.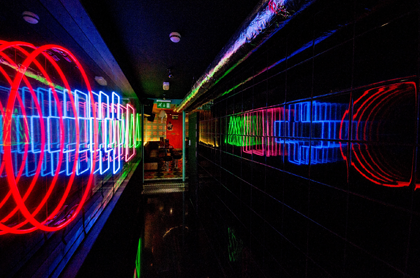 A flexible, low-cost lighting control system was installed so that the space can be brightened during daylight hours ensuring it is seen from the street, but can also be used to dim light levels later in the day to create an evening ambience.
Paul Nulty, Head of Practice, said: "This was a very challenging yet exciting project to work on. Adventure Bar has big design ideas and aspirations, and with a tight budget in place, we really had to think creatively to design a lighting design solution that was both bold and quirky, yet met the brief fully."