Allermuir returned to Clerkenwell Design Week for this year's celebration of the best in international design, showcasing a selection of innovative new products not yet exhibited in the UK.
The design led corporate furniture brand displayed a product showcase that's anything but ordinary, set against the backdrop of The Design Factory in the iconic Farmiloe Building at the heart of Clerkenwell.
The exhibition included new and reimagined favourites designed to create beautiful areas for people to work, meet, greet, dine, relax, play or break away.
This year sees the introduction of the Hepworth range designed for Allermuir by Ben Grafton. Hepworth's distinctive and graceful seating range includes sofas and chairs for reception and lounge areas suited to both corporate and hospitality environments. The compact tub chairs are cleverly designed to fit neatly into awkward spaces, particularly room corners and the range's unique shape gives the user a sense of space from adjoining chairs, without compromising on comfort.
The Ottens rocking chair designed by Jinho Song is a generously proportioned, fantastically comfortable lounge chair. Its innate visual simplicity masks a simple feature, in that it rocks, allowing everyone to find their perfect sitting position. A distinctive ottoman complements the chair or alternatively works well as a stand out piece on its own.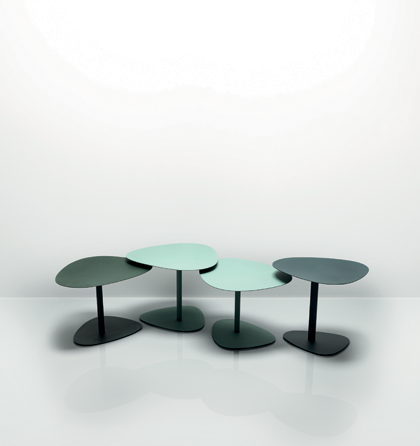 Complementing Allermuir's extensive portfolio of soft seating is the Sunda1 family of plectrum shaped occasional tables in a variety of sizes and heights which can be clustered to create a unique shape. These simple yet elegant tables are manufactured from laser cut sheet steel which can be finished in a range of finely textured, mineral coloured powder coated finishes.

Quincy is a modern dining or meeting chair with an elegant, pared down construction comprising of a seamless polyurethane shell and four solid hardwood legs, poised on nylon glides. Designed by Allermuir designer Jon Crawford, Quincy uses only four fully recyclable materials, affords the chair a sound environmental specification.
In response to the increasing demand for collaborative working solutions, Allermuir has created Haven Pods and the Sholes chair. Part of the Haven family, Haven Pods create spaces for focus and ad hoc meetings within existing open plan environments. 'Solo' and 'Solo Plus' invite individual focused work, while larger sizes such as 'Duo' provide ideal spaces for ad-hoc meetings and sharing ideas. Other models have also been developed to minimise the distraction caused by shared office resources such as printers and recycling.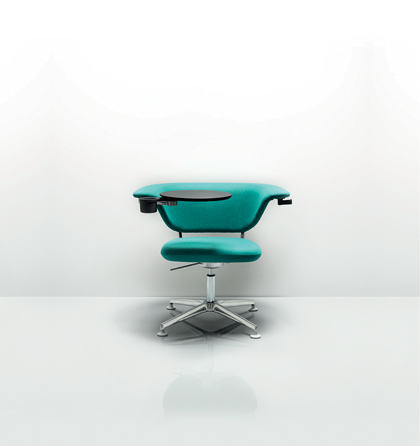 The Sholes multi-purpose chair has been designed specifically to support collaborative work settings. Its generous proportions and wrap around back provide excellent comfort whichever position you take. Optional extras include a bag hook and table which incorporates a cup holder.
Allermuir also exhibited a number of popular designs that have been given a contemporary twist such as Tonina, designed for Allermuir by Dondoli+Pocci. This contemporary chair has a multitude of possible applications across a variety of indoor and outdoor spaces. The added features of a lattice back and upholstered seat not only look beautiful, but also add a depth of comfort.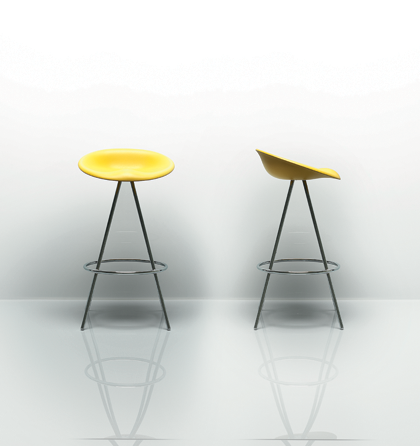 Another reimagined Allermuir favourite is the JoJo high stool with a new PU shell in an array of modern and complementary colours. JoJo is an elegant and curvaceous stool seat created to provide one of the most comfortable stool seat shapes. JoJo's two frame styles complement the seat design in the form of high and low four leg frames, or height adjustable frame with a swivelling centre pedestal.
http://www.thesenatorgroup.com/uk/allermuir/