Paul Nulty Lighting Design (PNLD) has completed work on the latest London opening for the Hakassan Groupís Yauatcha, in Broadgate Circle.

Yauatcha, a contemporary dim sum teahouse sits within a unique semi-circular restaurant overlooking Broadgate Circle in the City of London, and is the companyís second UK opening for the restaurant chain. PNLD worked collaboratively with the client and alongside architecture firm Gensler and interior design company GBRH, to create a dramatic lighting design concept that is consistent with the brandís identity and adapted to the unique space and physical needs of the new restaurant and retail unit.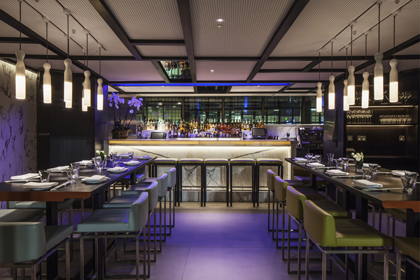 Set over two floors PNLD has designed a lighting scheme that complements the darkness of the interior design. Lighting entices customers upstairs by incorporating the brandís signature blue colour within an illuminated glass balustrade and staircase that leads from the ground floor entrance to the first floor restaurant.