The Cinnamon Club reopens with new contemporary interiors ahead of its 15th Anniversary, designs courtesy of F&B impresarios B3 Designers.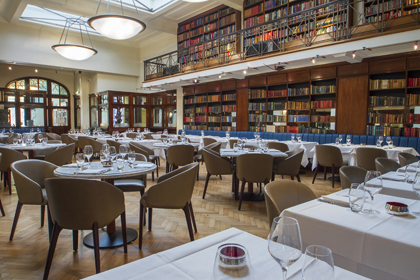 Vivek Singh's 'slice of old India', The Cinnamon Club, reopened its doors a the beginning of September after undergoing a refurbishment in preparation for its 15th anniversary.
The Cinnamon Club have worked with award-winning design studio, B3 Designers to revitalise and restore the club's interiors. B3 Designers have enriched the 242 covers, 363 square metre restaurant with strong colours, majestic finishes juxtaposed with contemporary yet luxurious pieces of furniture in true Cinnamon Club style.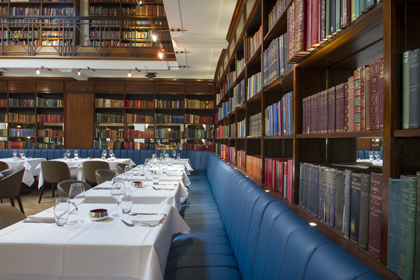 Soaring ceilings, elegant tables, shelves filled with antiquarian books and vintage wood panelling create a mood of club-like serenity. Marble tabletops have been used in the main dinning room to create an elegant 'dressed' appearance to the tables. The introduction of new seating booths, with bespoke brass stripe detailing, has made a dramatic improvement to the area under the mezzanine space. It is also here that B3 Designers have fitted new timber and mirror panelling to match the existing panelling and create a continuing feature. The library bookcases that wrap the main dining space have been restored and, as a main focal point, work to revive the heritage of the building. As part of the library bookcase restoration process, B3 Designers purchased thousands of books, which were sorted and catalogued by colour and subject. The books were then integrated into the restaurant, nourishing the existing library – some special literary books were sold in pieces so were given a new lease of life as artwork by framing the illustrations.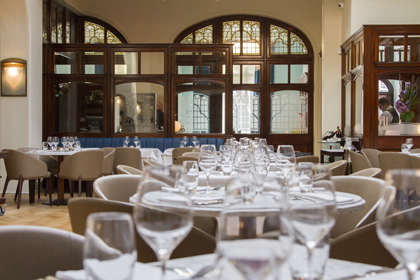 In the Mezzanine area above the main dining space, a striking blue colour has been applied to the walls tying this space to the dining area beneath. The walls have been adorn with artwork and new banquette seating has been installed. In the Private dining room, duck egg has been applied on the walls to tie the space together and overcome the large scale of the room. To create definition and detail, B3 Designers chose a contrasting off-white to the cornices, mouldings and the two large arches thus enhancing and reviving these architectural features. A mix of carefully chosen artwork adorns the walls whilst rich, heavy velvet blue curtains hang to add another layer of luxury.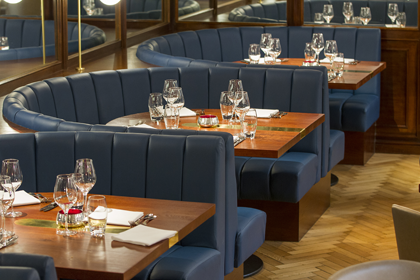 The Library Bar is dressed with bespoke 'cocktail style' furniture upholstered in plush velvets with strong colour punches. The walls are painted with a refreshing light teal/sage colour bringing out the finish of the mahogany woodwork in the bookcases. Classic opal shades and brass light fittings dotted around give that final touch of elegance. Artwork was a key feature B3 Designers wanted to bring to the newly, designed restaurant, enriching the space and its character. An eclectic mix of subjects paying homage to the history of the space as an old library hang in the Library Bar – old maps, photographs of the library, the old baths next door and references to Great Smith Street.