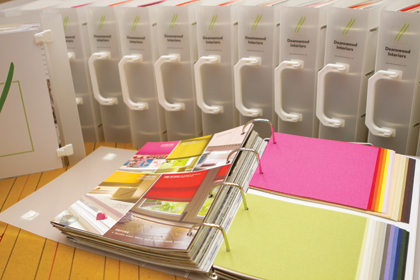 Deanswood Interiors teams up with New House Textiles to provide designers with an extensive range of blinds to control and diffuse natural light throughout homes and interiors.
Interior designers and architects continually strive for excellence in design in the hope of fulfilling their clients practical and emotional briefs. Every element of design must be addressed, from floor plan to structural work and the natural light versus artificial light that the designers will be working with.
Natural light is an important factor in the design process and the treatment of covering the window is integral to the final finish of the space as light can flood and affect the space and layout of the interior.
The Deanswood Interiors team always provide the best advice, whether for contemporary, modern or traditional design style in window treatments. In giving the best advice the Deanswood team considered the many aspects of roller blind fabrics and how they work within the window space to make the most of what natural light is available.
Not too long ago blinds were used to screen windows. Today they can help transform rooms.
It is important to Deanswood to get the window adornments right for their clients and research has indicated that New House Textiles, a creative force in blinds, offer the right quality, range and style to meet the demands of the discerning and their designer clients, curtain and blind manufacturers such as Deanswood.
Deanswood Interiors and New House Textiles have put together a range of on-trend roller blind fabrics to work with all window conditions.
The Deanswood 2016 binder contains 190 fabric samples of which, in keeping with trend and demand, 70 per cent these are new fabrics. A new collection of fabrics introducing colours, designs, textures to include the latest in subtle treatments.
Deanswood Interiors is focused on producing the best work for their designer clients. Their expert skills in manufacture and installation of elegant blinds and curtains is of the utmost importance. It is an ethos that is carried through every element of the Deanswood operating process.
An exacting computer-based process called the DiDii system, owes a great deal to an in-house quality control system, designed by the sons of the original founders of the business. The strict quality control of the DiDii system is mainly responsible for the continuing ability of the talented people who make up the Deanswood Interiors team to provide their best service to clients.
The Deanswood motto 'Last on site, first in service' applies more than ever as the clients of interior designers and architects are becoming ever more discerning.

01634 814444 | www.deanswood.co.uk