One of the North West's leading racecourses, Haydock Park, has recently refurbished its Final Furlong Bar to include Max-Top Quartz surfaces on its bar tops.
CJM Maintenance Solutions Limited managed the project and selected the Black Onyx Sparkle worktop for the bar due to its durability and stylish finish.
Mike Hamilton of CJM Maintenance, commented: "We have used Max-Top Quartz in previous projects, and we have found the surfaces to be of excellent quality, offering a solution that's aesthetically pleasing and most importantly, long-lasting to withstand the thousands of visitors using it year on year.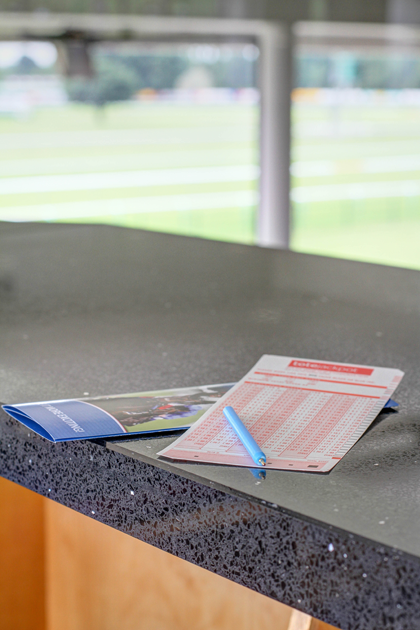 "It was a race against time for Haydock Park as they needed the bar area refitting in just a couple of days therefore Max-Top Quartz was the obvious choice due to its immediate availability and ease of installation. The end result looks fantastic!"
Max-Top Quartz, which is available in up to 10 finishes and comes with a 25 year guarantee, is a unique product in the surface market. Featuring a patented interior honeycomb structure, the product offers the aesthetic benefits of a solid stone surface, with the advantage of a deeper 40mm profile.
Stephen Moss, managing director of Max-Top, commented: "Max-Top Quartz is a unique, lightweight surface that is both stronger than traditional stone and easier to install – a simple and cost effective way of adding significant value to the look and feel of a room.
"Our modular quartz surfaces have been a real success in hospitality environments where quality and durability is paramount, and the ease of installation means they can be extremely helpful when planning a large-scale project."
Mike concluded: "The new surfaces create a brilliant finish in the bar, and are going to last for years to come. We are very happy with the product, but more importantly, the client is delighted!"
0161 224 0333 | www.maxtopquartz.co.uk