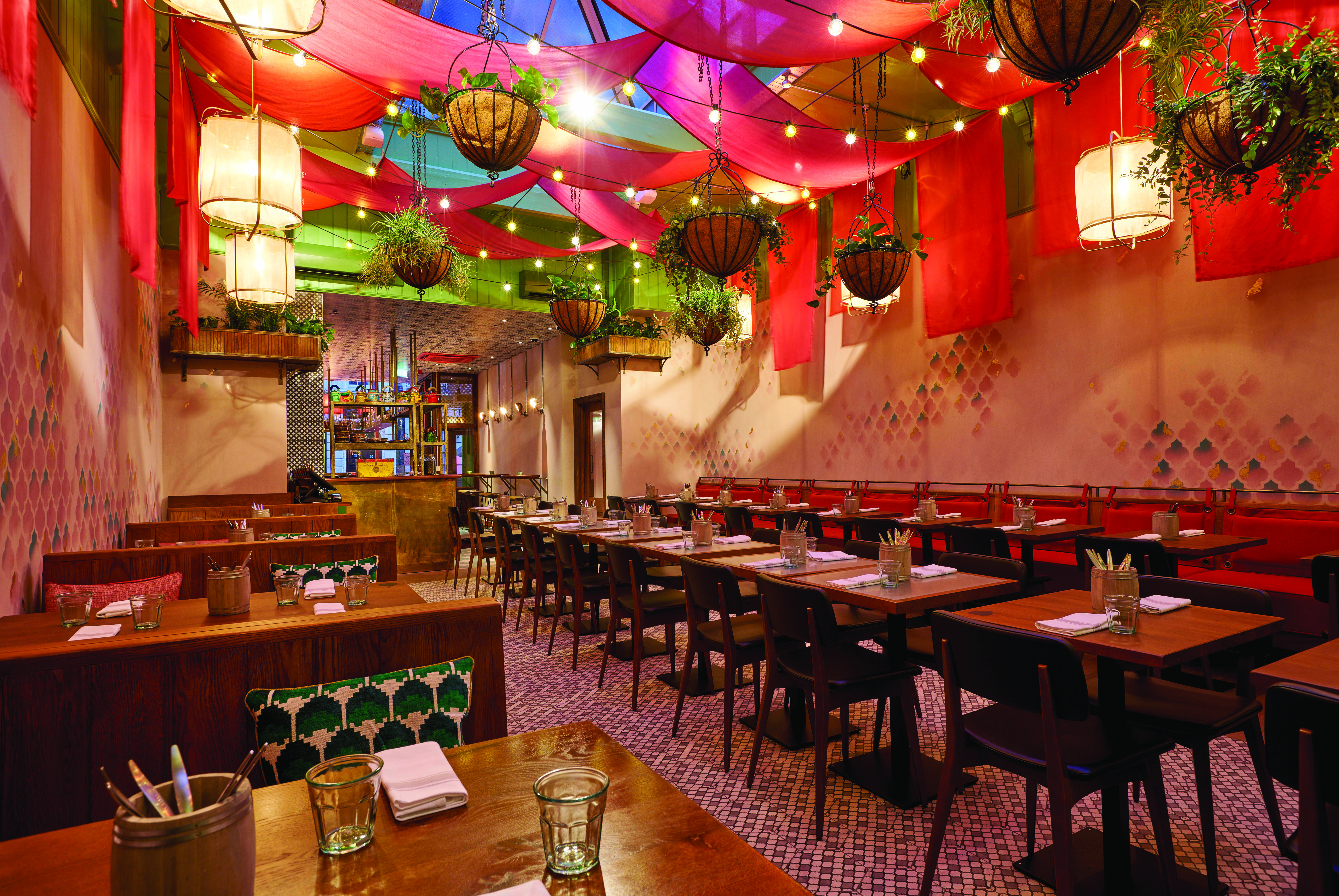 DesignLSM have recently completed the interior design for the launch of Cinnamon Bazaar in Covent Garden.
The 90-cover restaurant is the latest venture from renowned Indian chef Vivek Singh and forms part of The Cinnamon Collection.
Inspired by the exotic and bustling markets of India, the design scheme embraces an eclectic bazaar ambience offering diners the chance to discover something new with every step. The overall concept is set across two floors; an intimate private dining room on the first floor accompanied by a dedicated bar and vibrant restaurant area on the ground floor.
The exterior of the restaurant has been re-envisaged with a new bold timber shop front and striking metal projecting signage accompanied by ornate hand-painted columns depicting a distressed tile effect that frames the vibrant double doors. Each door is decorated with traditional Indian images – allowing patrons to feel as if they are being transported into the heart of bazaar as they step over the entrance.
A feature bar illuminates the front of the restaurant with its rich green façade and aged brass gantry housing the infused spirits ready to be crafted into delectable cocktails. The area is furnished with intricately patterned wallpaper, displays of original Asian crockery and a blend of relaxed seating areas.
Adorned with a vibrant colour palette of opulent golds, blues and greens, the main dining room features beautiful hand-painted Indian artworks and ornate tiles. The ambience is further enhanced with a dramatic ceiling display – an array of hanging lanterns, greenery and draped Indian silks.
A unique feature in the space is the bespoke Chaat Cart – Chamiya, which pays homage to India's oldest and most traditional street food snacks. Chamiya contains all the specific individual spices and ingredients and is wheeled to each table to allow diners to tailor their own chaat.
Upstairs in the private dining room, our designers restored the existing bar to replicate the handcrafted design of the entrance door. The 30-cover dining room is framed with luxurious mustard coloured window drapes and decorated with authentic wicker ceiling fans.