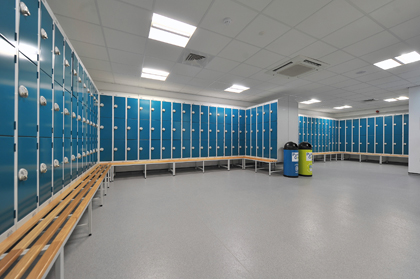 Polyflor, one of the UK's largest manufacturers of commercial and residential vinyl flooring has has its products specified by Pure Gym Group Ltd. With over 30 operational sites here in the UK, the group have chosen to install Polysafe Vogue Ultra PUR in all of their gym changing room facilities.
Polyflor's cutting edge PUR technology facilitates life cycle maintenance cost savings of up to 60% over a 15 year period when compared to untreated safety flooring using a micro mop maintenance regime.
As with all Polysafe products, Vogue Ultra PUR fully complies with HSE and UK Slip Group Guidelines to give sustainable slip resistance throughout its guaranteed life, achieving 36+ on the Pendulum wet test (Slider 96/Four S rubber) with a surface roughness of 20 microns and above.
Vogue Ultra PUR achieves the highest possible BRE Global Environmental A+ Rating in major use areas such as education and healthcare (Certificate No: ENP 336).
Simon James, Marketing Manager at Polyflor added: "We're delighted to have been chosen by Pure Gym Group Ltd. We have a history of working in the sports and fitness industry and are delighted to see this trend continue with such a dynamic organisation."
For more information visit www.polyflor.com