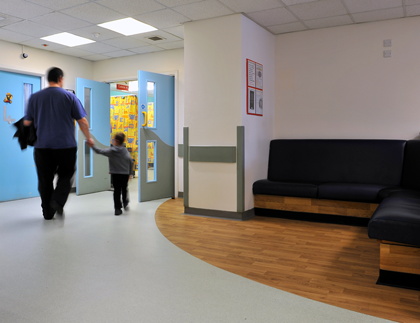 Polyflor products have been specified and installed at two healthcare facilities in Sheffield.
Sheffield Central Clinic is benefitting from Polyflor products, with Polysafe Wood FX Acoustix PUR in Rustic Oak and Pearlazzo PUR in Lilac Bloom and Mint Crisp installed throughout. Similarly, Sheffield Children's Hospital has chosen to install Polysafe Modena PUR in the Aventurine shade in its Accident and Emergency Ward whilst Forest FX Acoustix PUR has been used in waiting rooms.
David Garrett, Senior Project Manager at The Children's Hospital commented, "It is vital that our hospital remains welcoming and comfortable for our visitors whilst also remaining safe and secure. We chose to specify Polysafe Modena PUR due to its high aesthetic appeal but also for its sustainable slip resistant properties and full HSE compliance. Modena does not look like a traditional safety floor but we were assured by the product's status as a Polysafe range. Being a very busy facility with lots of footfall, we need to ensure that our floor will stand up to a lot of traffic, provide underfoot safety whilst also being easy to clean".
Simon James, Marketing Manager at Polyflor added, "Polyflor has a proven history of providing flooring to the healthcare sector and we are pleased that we have been chosen for two such important facilities in Sheffield."
The latest product from Polyflor, the development of Polysafe Modena PUR follows increased demand for more aesthetic floorings that can be used throughout a building but that still retain sustainable wet slip resistant properties. Customer demand is now for high quality designs with built-in safety, containing safety particles that are virtually invisible and do not detract from the good looks demanded in the more showcase areas of a building.
The inclusion of clear aluminium oxide within the vinyl ensures that Polysafe Modena PUR is fully compliant with HSE and UK Slip Resistance Group Guidelines, achieving 36+ in the Pendulum wet test and a surface roughness of 20 microns and above. The appeal of all 14 shades is protected by Polyflor's class-leading cross-linked and UV cured PUR maintenance enhancement, to enable optimum appearance levels and maintenance cost savings of up to 60 per cent.
Polysafe Modena PUR fully meets the requirements of EN 13845, the European standard for safety flooring and achieves a BRE Global Generic A+ environmental rating in major use areas such as healthcare and education. It is also suitable for recycling through the Recofloor Vinyl take back scheme.
For more information telephone 0161 767 2551 or visit www.polyflor.com to download a copy of the Polysafe Modena PUR brochure.