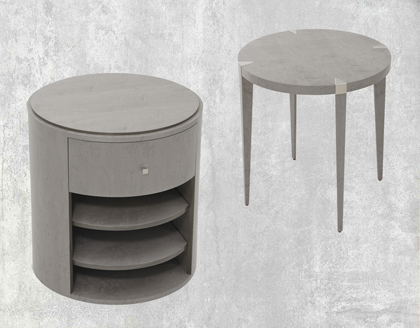 The latest 2013 trend in fashion, architecture and interiors is Metallic. New techniques allow designers to embrace the Metallic style in new creative ways. Inspired by this trend, Black & Key's exquisite new Pewter veneer adds timeless glamour to any scheme and complements contemporary and classical colour palettes.
Black & Key specialises in using beautiful and unusual timber veneer finishes, all custom-crafted in England, creating unique and bespoke pieces. The new Pewter veneer adds a new dimension to this exquisite collection, which is being thought of as "antiques of the future".
The Endo table, a low-level side table with polished nickel detailing, is part of the Morph table collection. It is available with or without a shelf and comes in a range of finishes. A glamorous addition to any living room, it would be an ideal end table between sofas.
The Arc bedside table has two drawers and a useful shelf. The gently curved design is every bit the essence of the Art Deco period.
A bespoke service is available to create individual designs suitable for any scheme. The introduction of metallic finishes enhances design schemes with a touch of complete luxury.
For more information telephone 0208 741 8010, email mail@blackandkey.co.uk or visit www.blackandkey.co.uk