From Toronto to Tel Aviv, JAB has collaborated with some of the world's leading artists and designers, including industrial designer Konstantin Grcic, Op-Artist Richard Anuszkiewsicz, award-winning product designers Studio Vertijet and Canadian-based Creative Matters, whose rugs can be found in Gucci and Tom Ford retail shops throughout the world.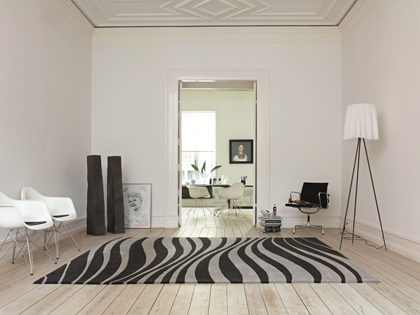 Featuring abstract designs, three-dimensional patterns, ornamental and floral motifs, the rugs encompass five main themes; structures, botanicals, artists, graphics and ornaments. Each design is based on an initial hand-sketched drawing straight from the designers studio, then customised to suit individual styles and design needs.
Available in 135 standard colours, JAB also offers a complimentary service of colour customisation, so if your ideal colour is not available, JAB will create it for you.
The rugs are made from 100 per cent pure New Zealand wool and the finest silk available. Employing the most highly trained craftsmen, each rug is worked on by only one person, from beginning to final product, ensuring the highest quality piece of work and a truly bespoke service. With a hand-tufting machine, yarns are shot into the fabric until the entire surface forms a dense pile. The pattern is then cut and carved by hand followed by a close inspection to ensure each rug maintains the highest standards before final delivery to the customer.
Characters rug collection has been years in the making for JAB Anstoetz and establishes the brand as the new leaders in luxury carpets and rugs. This collection presents a completely unique and inspirational design for the home, offering not only a rug but a piece of art that will last a lifetime.