RPW Design has completed the re-design of the A Bar, a chic new cocktail bar in the InterContinental Amstel, Amsterdam.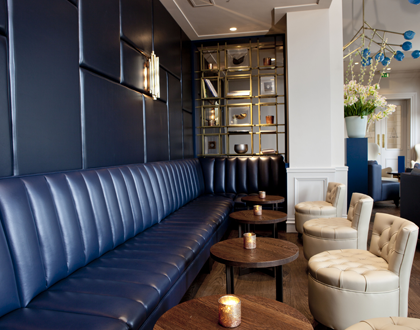 It may seem as though Amsterdam is constantly adding to its collection of luxury and designer hotels, yet the InterContinental Amstel Amsterdam remains the city's Grande Dame, enjoying high status and a degree of respect among her peers.
Now the grand old lady can boast a new destination bar, designed by RPW Design to attract a younger crowd without alienating the very loyal following that only the best of the best hotels enjoy.
The A Bar opened last month and has set the standard for an on-going programme of works intended to bring the InterContinental Amstel bang up-to-date, so that it can reclaim its position as one of the foremost destinations in Amsterdam.
As well as walking the tightrope between appealing to a younger audience whilst retaining its traditional customer base, Jan Wilson of RPW Design acknowledges that one of her biggest challenges was the A Bar's limited back-of-house space, and its connections to the rest of the building.
"The bar opens onto a hotel corridor and is located to the rear of the hotel, next to the terrace" she explains. "It also has an extremely high ceiling for a relatively narrow room."
Part of her strategy to overcome these challenges was the introduction of a striking light installation, comprising eight individual light fittings created from hand-blown glass. After tendering, these were manufactured to Jan's specification by a supplier based in Austria. The fittings turned out to be one of the most challenging areas of the design. As Jan explains:
"The Dutch are particularly prescriptive about the use of low energy lighting. The result was a lot of prototypes to make sure that the fittings not only looked good as a sculptural element, but also worked to provide some light to conform to the statutory requirements."
The smoky blue of the light fittings is reflected in the colour of the leather used for the bespoke chairs, adding to the 'contemporary lux' feel of the A Bar. Quality craftsmanship and materials are used throughout, from the bronze chain mail curtains and solid timber broad plank floors, to the polished gold finish back bar and feature shelving units.
RPW always makes considerable efforts to commission and procure artwork that gives each of its design projects a special signature, unique to its location. The A Bar in the InterContinental Amstel features a key image over the back bar by the world renown photographer Hendrik Kerstens as well as other artworks that reflect the local contemporary art scene.
Beyond its emphasis on comfort and luxury, the interiors of the A Bar bear little resemblance to its hotel 'host'. "This was meant to be a new direction for the Amstel. Therefore we retained the values of the existing interiors but took the design in a completely new direction", says Jan.