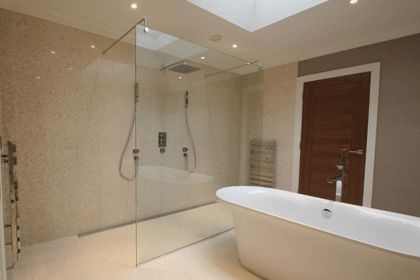 CCL Wetrooms, one of the UK's leading wetroom specialists, have just launched their unique Modular Wet-Floor System, allowing any size or shape of wetroom to be quickly and easily created on a timber floor. The key to the system is its design flexibility, allowing a stunning linear drain to be situated in almost any position.
The Modular Wet-Floor system is a totally unique concept in wetroom technology, consisting of only three elements:- Drainage Component, Tapered Board, Floor or Wall Grill. Thanks to the flexible nature of these components, almost any size of wetroom can be achieved. The Drainage Component and Tapered Boards can be used in a combination of ways to create either a one way or two way fall, with the drain positioned in the floor or up against the wall. The components can be trimmed or butted together to create a larger wetroom area, making the Modular Wet-Floor system both simple to configure and quick and easy to install.
As the demand for open plan living continues to grow, the traditional bathroom is gradually becoming less attractive to style conscious consumers and those with limited mobility. The range of sizes offered by CCL Wetrooms has now been increased, with the introduction of a 1500mm x 1200mm Tapered board, which when coupled with the Drainage Component, allows a wetroom to be easily installed where a standard 1700mm bath has been removed.
Walk-in showers, often referred to as "inclusive design" have become a particular trend with consumers in their retirement years looking to replace an existing bath with a more accessible wetroom, without compromising the style of the bathroom.
?The introduction of the Modular Wet-Floor system has been particularly well received by House builders and Developers, as the system allows a wetroom to be easily created on a timber floor, with a Linear Drain situated in almost any position.?This element of flexibility not only affords the designer greater freedom when deciding the layout of a bathroom, it also has a benefit on-site, by ensuring the wet floor is both quick and simple to install.
Howard Ball, Sales & Marketing Manager at CCL wetrooms commented "We have launched the Modular Wet-Floor system to provide greater flexibility for architects and designers who don't wish to be constrained to designing wetrooms to a standard size. Developers of luxury houses have been creating stunning wetrooms for their clients for many years and we felt it was about time that we catered for customers who wanted to create a bespoke wetroom on an affordable budget. The Modular Wet-Floor system now enables a bespoke wetroom to be an affordable luxury.
?When combined with our sister company wetrooms UK's installation service, complete with a unique 10 Year Guarantee, the Modular Wet-floor system has proven that wetrooms can now be installed and guaranteed at an extremely cost effective price point."
For full product specifications, CAD drawings and technical advice, visit the CCL Wetrooms website www.ccl-wetrooms.co.uk or call 0844 327 6002.
https://twitter.com/CCLWetrooms