Folio Design has added another stunning development to its portfolio of high-end properties, with completion of a luxurious garden room in Highgate.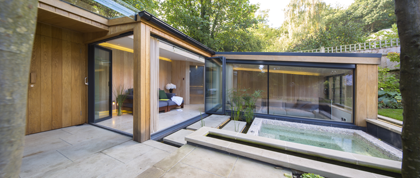 The owners re-commissioned Folio following a refurbishment of their five bedroomed home in 2011, requesting that an unused area of their garden be transformed into a relaxing, sustainable leisure space, integrated with the woodland beyond.
Nestled amid a backdrop of lush green trees, stands the 400ft2 single storey structure. Housing a sitting room, gym, sauna, shower and relaxation area and wrapped around a central external hot tub. This joins both a rill and a natural pond, sympathetically built into the landscaped garden.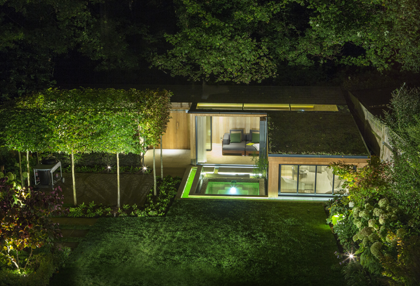 To successfully meld the structure into its surroundings, Folio Design worked closely with landscape designers, sinking the house into the garden so that it appears to rise up from underneath the tree-line. In this way, the beautiful woodland view from the main house is maintained and the sweeping lawn is seamlessly connected to the garden house via the planted, green 'eco roof'.
Folio Design used natural limestone flooring, underfloor heating and cast glass to create a warm, welcoming spa feel throughout. Muted organic colours bring cohesion with the outside space and a continuous stargazing roof across the breadth of the house adds playful light and panoramic views at night.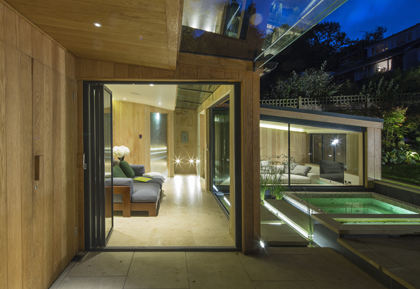 Full height sliding folding doors have been used to open up the seating areas to create a truly integrated garden 'living room', and impressive area for entertaining in the warmer months. Externally, Folio Design has referenced the surrounding copse with green oak cladding and cedar shingle roofing. Slot windows have been added to the gym for privacy.
http://www.foliodesignllp.com/
Photography courtesy of Tony Murray