The Norwegian Nobel Committee has awarded the 2014 peace prize to Kailash Satyarthi and Malala Yousafzai, two individuals who have staked their lives on the belief that children, regardless of gender, geography, faith, caste or social circumstance, belong in classrooms. Kailash Satyarthi is the founder of the GoodWeave international rug certification scheme, which works to end child labour in the rug industry.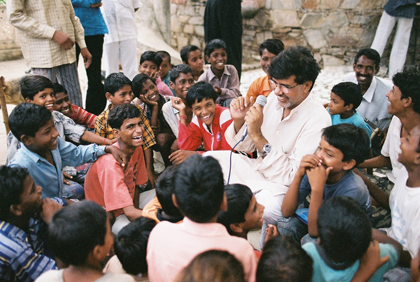 From the cocoa fields of Côte d'Ivoire to the carpet sheds of Uttar Pradesh, there are 168 million children around the world who toil in obscurity. In the announcement from Oslo, Committee chairman Thorbjorn Jagland said: "Showing great personal courage, Kailash Satyarthi, maintaining Gandhi's tradition, has headed various forms of protests and demonstrations, all peaceful, focusing on the grave exploitation of children for financial gain."
In the 1980s, Kailash Satyarthi began rescuing children from bondage. As chairman of the South Asian Coalition on Child Servitude, he fought against child slavery one factory at a time, one child at a time. He conducted rescue raids and liberated children who were enduring extreme violence, some brutally beaten if they ever tried to escape. Following one such raid, Satyarthi personally returned a trafficked boy to his home village. When he went to board a train home, Satyarthi saw dozens and dozens of children destined for the looms in the hands of middlemen. Arrested for causing a disturbance at the station, Satyarthi suddenly realised that this situation required a larger solution. "Something else had to be done. I thought, 'Consumers have to be educated!'" Satyarthi said in a 2013 interview.
This realisation was for him a turning point, and for the child labour movement a profound shift in thinking and strategy. In addition to exposing the ugly truth behind beautiful rugs, Satyarthi set out to establish a certification system that would incentivise manufacturers to stop exploiting children as well as guide consumer purchases. Thus the RugMark label, later to become GoodWeave, was born and the first certified carpets were exported from India in 1995.
Today, GoodWeave works in the top consumer capitals of the world and in the key rug-producing areas across Asia, expanding most recently to Afghanistan. Its programmes in weaving villages near Kabul, Mazar and soon Herat are reaching girls, many of whom resemble Malala. In the two decades since Satyarthi's jail cell, the organisation has gone on to reduce the number of "rug kids" in the region by two-thirds.
The head of GoodWeave Nina Smith, based in Washington, USA, upon hearing the news, said: "So many of us were motivated to join this struggle to protect the lives of vulnerable children because of him. This is an incredible moment for Kailash, for GoodWeave, for the children who have been forced to sacrifice their youth and their education for the benefit of business".
As Kailash looks back on his journey, he remains optimistic that the GoodWeave labelling model can be used in other industries from chocolate to mining. "At the time we launched the certification, nobody had heard the phrases, 'corporate responsibility,' or 'corporate accountability.' But we have given voice to many initiatives in the world. And some of the basic ingredients of GoodWeave now are being used as great lessons by others. In the end, we can change the world in this way."
GoodWeave is an international non-profit organisation that aims to stop child labour in the rug industry and to replicate its market-based approach in other sectors. In the UK there are 16 GoodWeave rug designers and importers which are signed up to child-labour-free rugs and the GoodWeave label, including The Rug Company, Matthew Wailes, Jacaranda Carpets, Bazaar Velvet and Deirdre Dyson.