Martin Brudnizki Design Studio creates informal and sophisticated alternative to iconic sister restaurant for the next generation of London literati.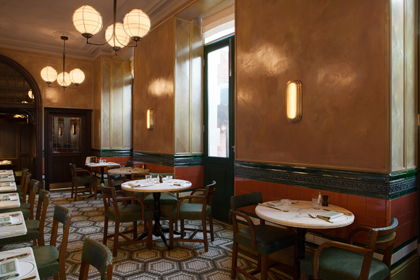 A relaxed and glamorous space
The Ivy Market Grill will transport diners back to the faded grandeur of turn of the century England, at the same time as offering the effortless style and warmth of its famous counterpart The Ivy.
Open from the 24th November and located in the heart of London's original pleasure-ground, the space is divided into a café, bar, restaurant, lower ground restaurant and terrace overlooking Covent Garden Piazza. The interior will feature an elegant and subtle design that encompasses the raw beauty of the second industrial age with colours and patterns reflective of the period.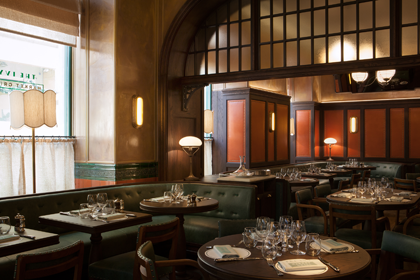 Guests will be drawn to the theatre of the bar
Martin Brudnizki said: "We wanted to create a café and restaurant aimed at the next generation of London literati. For those who like the familiarity of approachable sophistication and want a place they can pop into for breakfast, lunch and dinner. Our design is centred on an industrial aesthetic, as the Brunelian bar, glazed green, orange and teal dado panel and an air of distressed charm all combine to offer a vibrant yet established space."
On entering the café, guests will be drawn to the theatre of the bar, acting as a centrepiece and stage for the room; it will be made from antique steel and pewter and adorned with old- fashioned brass lamps. Sitting atop this statement feature, an aged brass clock face reminiscent of the golden age of railway travel, will add further industrial credentials to the interior.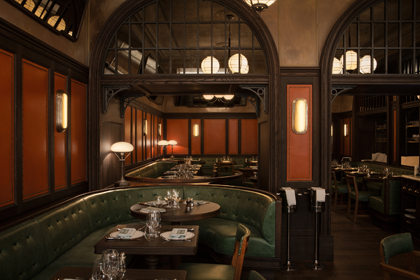 Marble mosaic flooring in a decorative pattern and antique mirrors greet customers over the entrance lobby and in each of the archways dividing the spaces
Further Victorian design inspiration can be found in the crackle-glazed tiled dado panel, which featuring a William Morris motif, runs throughout the café in shades of green, orange and teal and meets the distressed polished plaster of the upper half of the walls.
The restaurant shares a similar language in terms of design and features wooden wall panelling up to picture rail height inset with orange leather panels. Cross cut timber floorboards combine with aged timber tabletops to add a rustic element to the industrial design. A mixture of banquettes, benches, bar stools and chairs, furnished in British racing green leather are found throughout the café and restaurant and bathed in the atmospheric light of bespoke steel and glass globe pendants hanging from the coiffured ceiling.
Fun yet sophisticated
Looking out onto the theatre of the Covent Garden Piazza, the outdoor terrace brings a fun yet sophisticated element to alfresco dining, with zinc tabletops, blue lacquered metal chairs and statement antique lighting offering the perfect backdrop to the vibrancy of the historical market.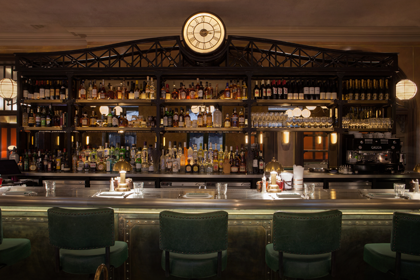 The Ivy Market Grill, 1 Henrietta Street, Covent Garden is now open.