Levi Roots, the creator of Reggae Reggae Sauce and Eren Ali, Las Iguanas co-founder, have launched Caribbean Smokehouse eatery, which opens in Westfield Stratford shopping centre today. Levi Roots has teamed up with award-winning studio, B3 Designers, to deliver the branding and interiors of his new restaurant venture creating an impactful, fun, colourful, friendly space inspired by Caribbean roadside shacks bringing authentic Caribbean cuisine to life.
B3 Designers have worked closely with Levi and Eren ensuring the space provides the perfect platform for Levi to bring the tastes of Caribbean cuisine, to as many people as possible. The interaction between the branding identity and the interior identity is almost limitless. From the branding design, B3 Designers incorporated various elements directly into the venue such as marrying the brand colour pallet into the space. The 2850 sqft restaurant accommodates 134 covers and evokes touches of humour and comfort mixed with retro vibe and bric n brac clad timber walls, steel mesh and the exposed steel work reference rough around the edges roadside shacks inspiration.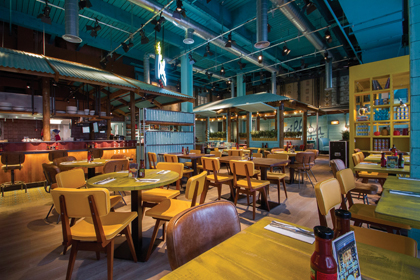 On entry to the restaurant, diners are met with what looks like a raised banquette seating area but is really a performance stage. With music in his roots, Levi wanted the space to have a stage, so in designing this flexible venue, B3 Designers needed to ensure that the vintage looking car seating were removable to create a stage while being a feature when the space is in use as seating. The meat is rubbed and then cooked in a pit on a wood-burning grill, staying true to the original Caribbean cooking methods. B3 Designers made the pit a focal point and used corrugated tin roof and timber frame – an old, deconstructed shipping container was sourced and cladded onto the front of the pit, uniquely referencing the pits of the Caribbean. A slow turning vintage style fan was custom made for the pit area, offering a level of cooling for the chefs. Its engineered to replicate the old school fans they used in the Caribbean with belt drive to stay in the keeping with the originals.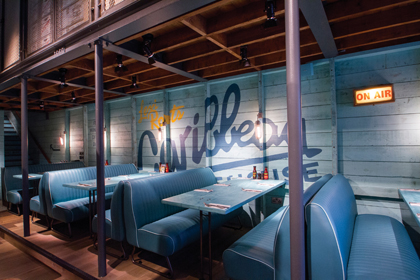 The restaurant evokes Levis personality and his way of communication hes inviting you into his home, wanting the restaurant to be open and welcoming. Little touches around the restaurant allow us to have an insight into Levis life it homes the only framed photograph of Levi as a child; shelves are stacked with vinyls, 260 records from his own collection and his guitar from the very first Dragons Den. Working closely with Levi and Real Restaurants on the details to create his brand and interiors has been a unique opportunity for our team. It is a pleasure to be working on a project with clients who not only have an in depth understanding of food but also how casual dining works and what customers desire to make their experience seamless says Mark Bithrey, Design Director at B3 Designers.