Kitchen design has long been a nuanced craft; it is part epic storage room, part entertaining space, requires comfort, accessibility and light, not to mention tough, resistant surfaces and materials and tech to boot.
How one uses a kitchen at home has shifted hugely in the last year, requiring the space to become even more multifunctional in its uses and transformative, from home bar to at-home dining set up, classic midweek cooking conundrums and zoom backdrop for calls from the kitchen island.
Interior Designer caught up with Laura Hammett (Laura Hammett Interiors) and Sam McNally (Echlin) to discuss what the kitchen space means to them as designers and in their own homes, reflecting on how kitchen design needs to be timeless, yet have cross-generational appeal for clients in this demanding space, and how to design that into client projects.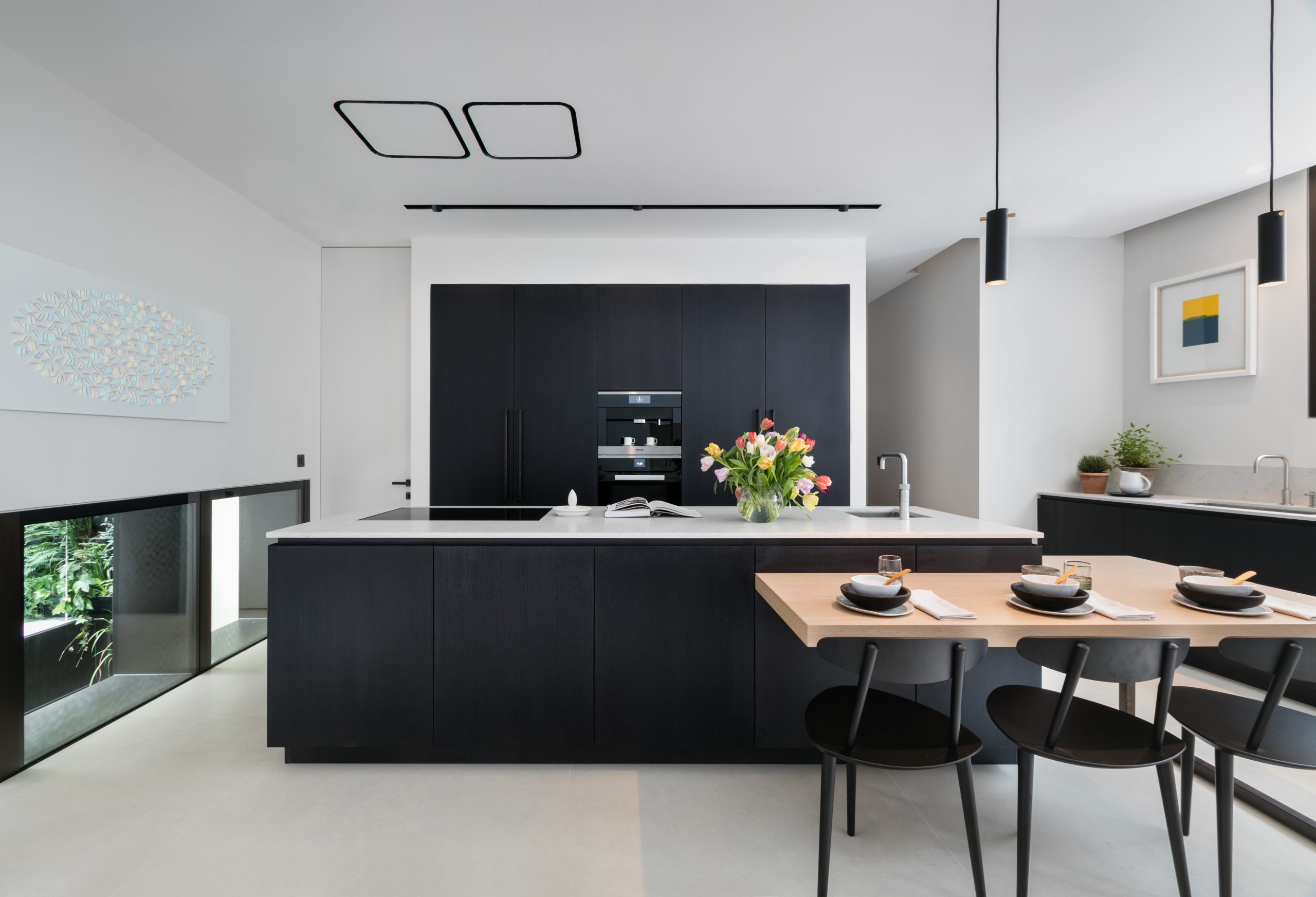 The shift in brief
So, just how have kitchen design briefs from clients evolved in the past few years? For Laura Hammett, it's a move away from the traditional 'designer' kitchen, less branded, more authentic, "We've found that people are less interested in having a branded kitchen these days, and would prefer for us to design something bespoke to work within the design of the rest of the home. The quality and warranties will match the brands, but we have limitless design opportunities to create something more unique and a real feature in their homes."
Sam McNally adds "There has been a transition towards multi-functional and flexible spaces, including the kitchen. Clients are rediscovering the charm of the pantry, which is now often at the top fo their priorities; people need extra storage, and designs that keep ingredients fresh for longer. We have also noticed an increased awareness of ergonomics, for example wall-mounted ovens and kitchen bench heights to suit the client." This is an interesting turn that ties in with the wellness industry and the appeitite from consumers to enageg moe with their own sense of wellbing at home. Fresh ingredientds reflects this and shows an opportunity for designers to work it into their concepts more.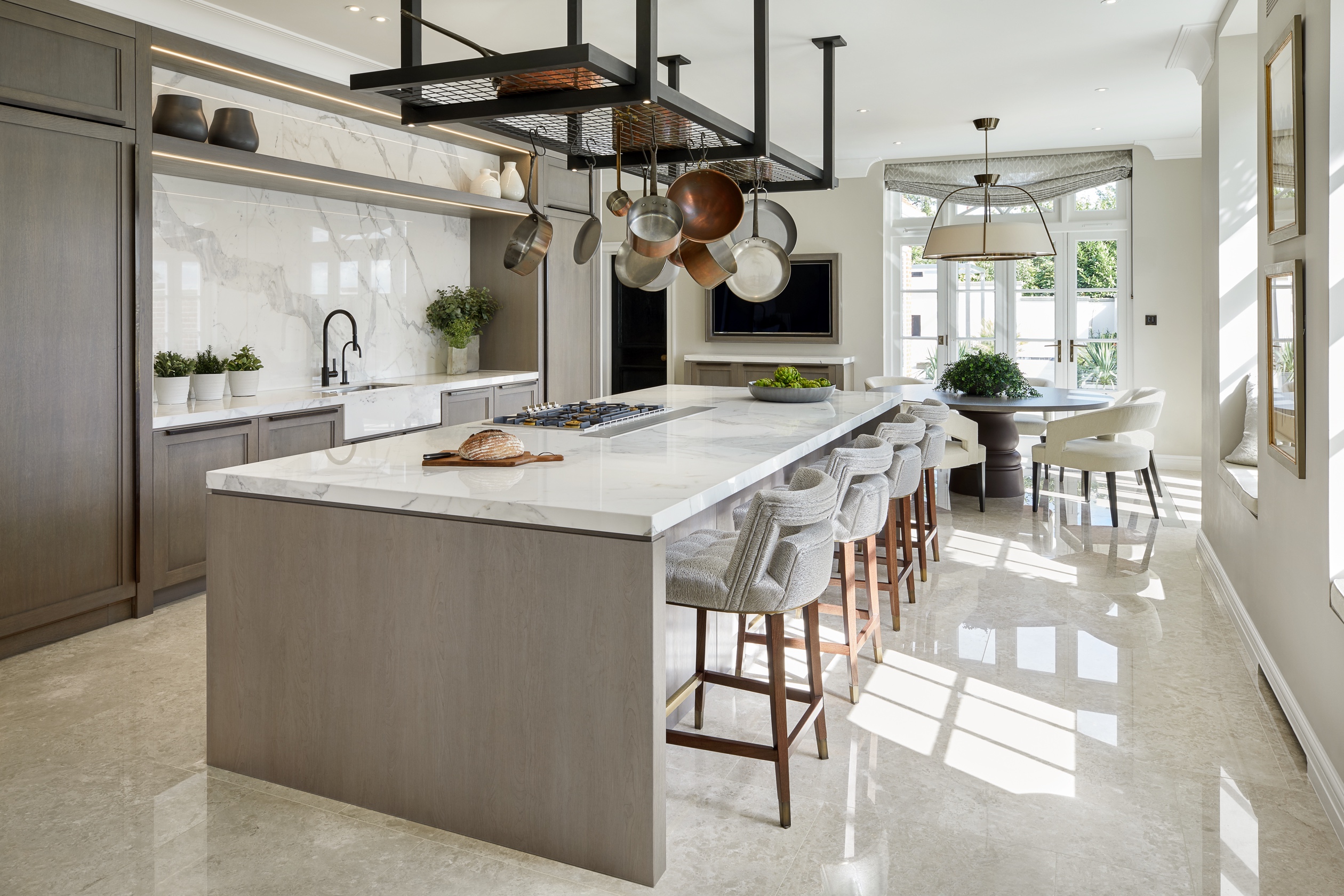 Great expectations
As one of the more complex, albeit fun rooms, in the home, it's interesting to see how and where clients are focusing their attention, as Laura explains, the kitchen will always remain top billing, "The significance of the kitchen within the home seems to only increase. Even our clients with full time chefs and a back of house chefs kitchens will want a large family kitchen because it's used for so much more than cooking these days." Echlin's clients are showing a geographical resonance in the importance of rooms, particularly the hub of the home. Sam adds, "[For us] It may vary depending on the location – for example we have found that in Central London people are less interested in large kitchens as they tend to eat out – however usually it remains an incredibly important space and clients have high expectations."
Core designs
In terms of the kitchen and its requirements, key elements that you return to time and time again must offer you a chance to really hone in on not just what the client wants, but your understanding of what they need. "We will always design a breakfast pantry where the daily mess such as toaster can be closed away when not in use." Says Laura, "You will almost always find detail on our kitchen cabinetry to give it some interest. Even when a client specifically requests a very clean contemporary design, we will add a second material such as a timber, often one used elsewhere in the property to bring warmth and feel connected to the rest of the home. And adding pendant lights always brings a softness and ambience to the room."
At Echlin, Sam and his team have an approach that considers three core values, no matter the style, "We always design kitchens with flexibility, durability and wellbeing in mind:
Flexibility for us is about designing kitchens that are flexible in the day-to-day, but also can adapt with changing family needs; Durability, which has two key components for us. On one hand it's about choosing materials that are as durable as possible to make sure they are up to the task, but often these are human-made and perhaps less good for the environment. As such we advise our clients to consider natural materials, that may scratch or dent, but can always be re-sanded or re-varnished, or just left to build a beautiful patina; Wellbeing, which is the overarching theme where natural light is maximised, natural air flow, relaxation, planting and greenery are combined to ensure the spaces are doing as much as they can to enhance the experience for their inhabitants. We consider environmental impacts of the materials we use, from the air quality which can be damaged by even the paint on the walls, to where the materials we choose originate."
Top of the most-requested list from you clients? "A breakfast bar," says Laura, "even if it is just a small section for a single stool, as much work surface as possible, preferably multiple areas to cook and prep, and a boiling water tap so there's no need for a kettle." Echlin's clients have similar priorities with Sam explaining, "Pull-out pantries, large drawers instead of cupboards, a boiling water tap and big practical bins for family use." Has the humble kettle whistled its last tune?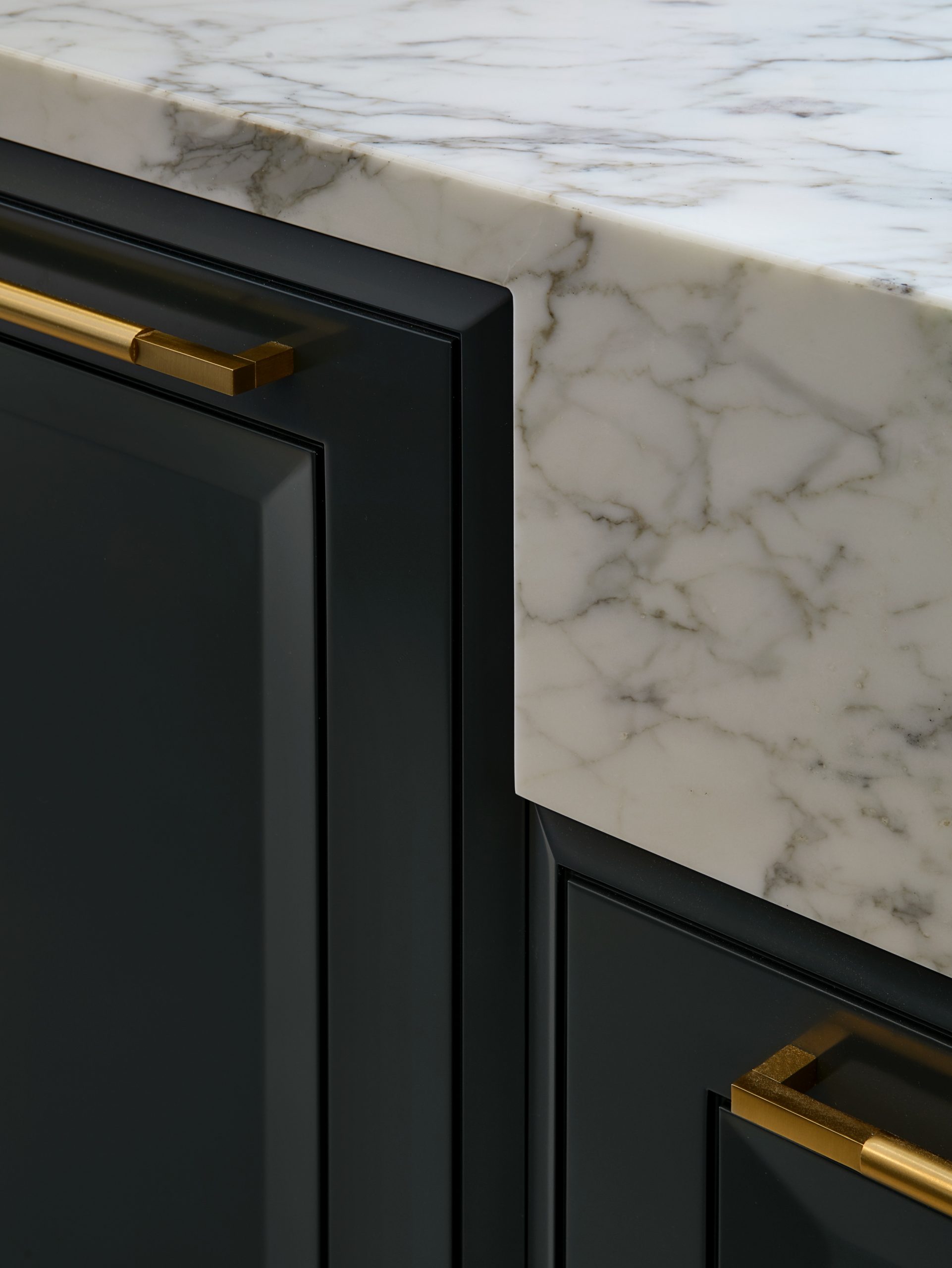 Must-haves
So, you're a designer, but you're also a homeowner and a consumer yourself, there must be aligned values between your own take on the kitchen and your clients… Laura agrees, "Funnily enough we're right in the middle of our own kitchen design at the moment. Having two young kids and loving cooking and entertaining as a family, we are always sharing our own experiences with the practicality aspects when discussing the designs with our clients. From essentials such as waste disposals, boiling water taps right through to the distance across an island so you can reach to pass things to kids at the breakfast bar."
Sam's priorities are right up there with this editor's, "A bean-to-cup coffee machine is certainly at the top of the priority list!" speaking the Interior Dedigner language, through great coffee.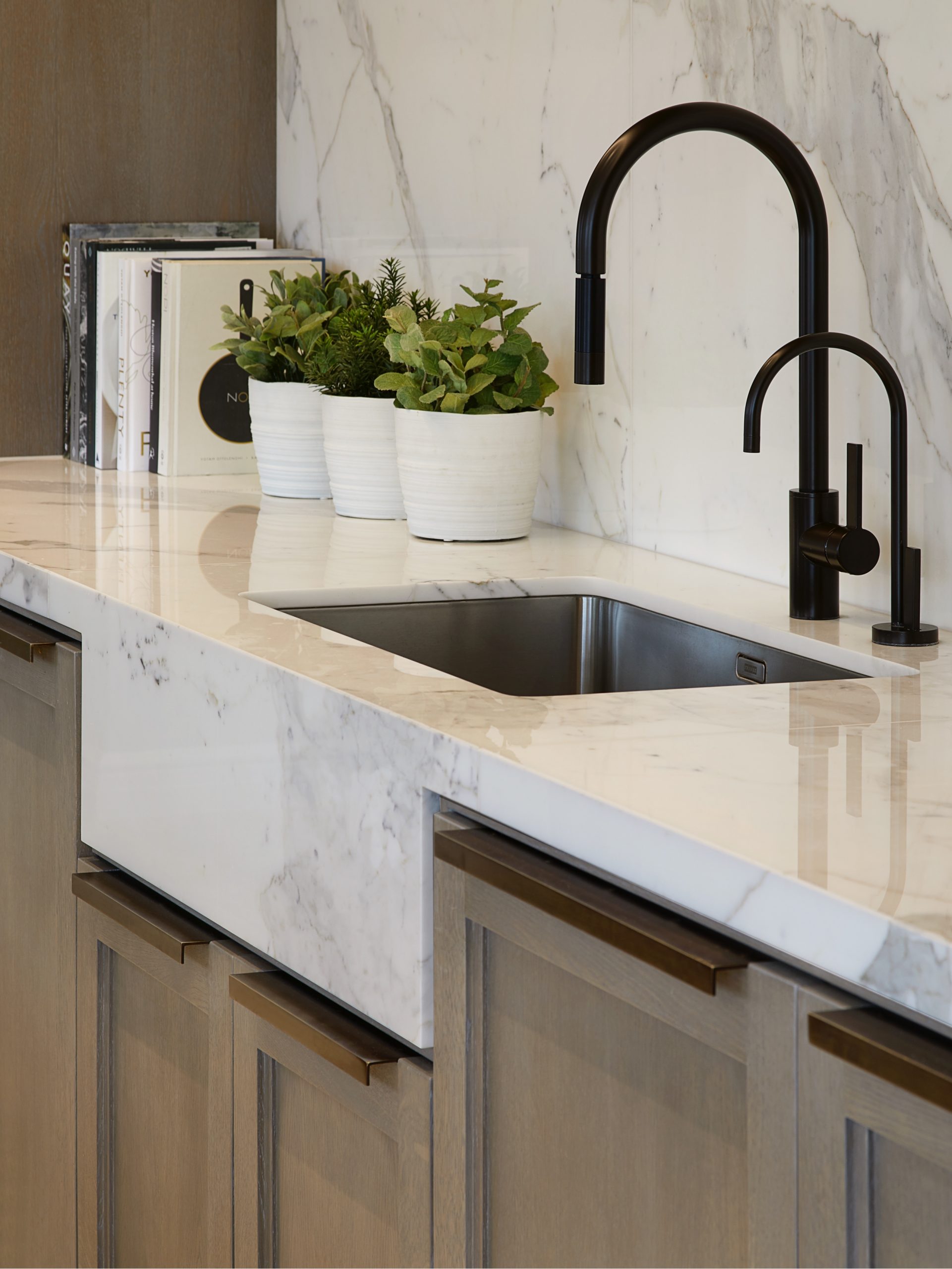 Material World
When it comes to favoured materials in the kitchen, Laura says "We love to use Neolith as a kitchen work surface, which is a sintered man made stone which looks exactly like marble but is highly practical and great for hard working family kitchens." For Sam and his team, they're keeping things natural, "Some of our favourite materials in kitchen spaces are timber, stone and metal."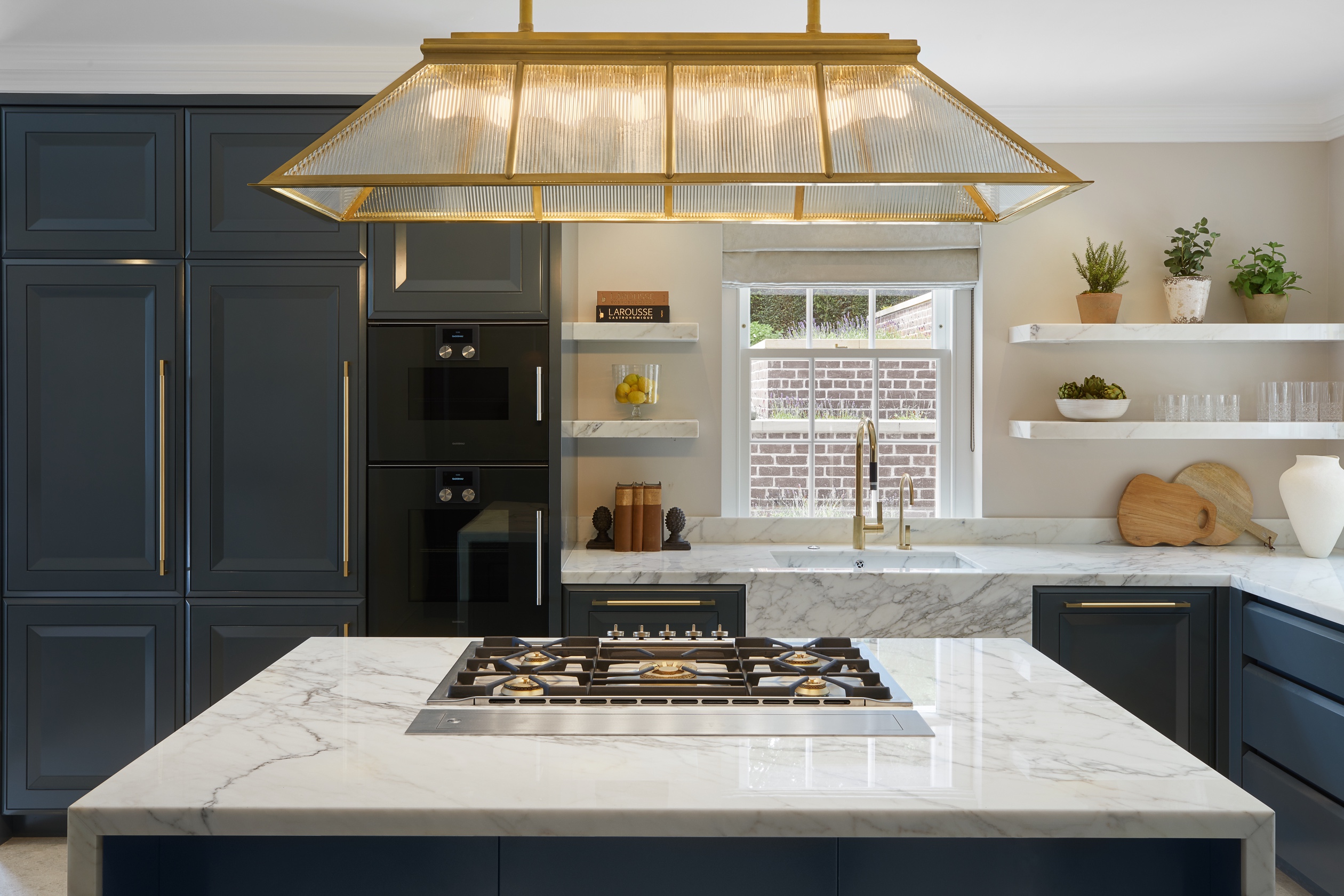 Intech, like Fintech but for interior design
Just how has tech and appliance developments changed how you approach design? "Pop up extractors have really improved the design of kitchens where the hob is in the island, because when you have a high ceiling it is such an eyesore to have a bulky ceiling extractor coming down into the space." Laura continues, "We are always having to integrate charging stations discretely into cabinetry as there is such a need for these, especially in the kitchen. Many ovens now have internal cameras and temperature probes, which don't necessarily impact on how we design but are definitely are very popular development with our clients."
 Sam adds, "We found that people are very specific about kitchen appliances and they want to have the freedom to update them without having to change the the whole kitchen. This requires a high level of flexibiiity and we need to ensure that our clients are able to keep up with technology changes without worrying about the rest of the design.
"Tech has also influenced the design approach when it comes to materials. For instance, there are new materials, like Fenix, that don't show fingerprints, are thermal-healing and abrasion resistant but matt in texture; this gives them a softer look and feel compared to materials we tend to think of as high-tech, like composite stones for example."
Supplier shout out
We're an industry of support and collaboration, who do you love to work with and specify from, specifically in the kitchen? "We love Visual Comfort for lighting because there's something for every design style and they have a great selection of pendants. Gaggenau appliances when budget allows and Amac Martin do the most beautiful kitchen handles." Laura concludes with Sam adding, "Composite stone manufacturers such as Caesarstone and Silestone are better than ever with a vast array of colours and finishes options and by far the most practical as anti-stain and heat resistant. For appliances, Gaggenau and Miele remain the most desired, should budget allow. We also love Studio Haran for handcrafted bar stools."